Walton Carp Lake is a relatively new addition to the Somerset specimen scene, having only opened as a carp fishery in 2017. It has been well-stocked and will soon become a rival to its sibling water, Festival Carp Fishery.
Set within acres of beautiful Somerset countryside, this mature lake offers anglers the chance to fish for some stunning, hand-picked carp that are increasing in weight all the time.
As Walton Carp Lake has been gaining in popularity, I thought it was about time that I checked out the fishery that everyone has been talking about.
Walton Carp Lake
Quick Look
Walton Carp Lake is the sibling water of Festival Carp Fishery. Although the residents aren't as big in Walton Carp Lake, the venue itself is more mature and provides an idyllic setting for a fantastic session, whether that be for a solo or social outing.
Stock Level

Peg Spacing

Facilities

Cleanliness
Pros
Idyllic setting Very mature lake Reasonably priced
Cons
Basic facilities Some pegs face each other
Directions To Walton Carp Lake
Walton Carp Lake is situated in the village of Sharpham on the Somerset Levels, around 3 miles from the town of Glastonbury. Its rural location means that slow-moving agricultural vehicles operate in the area, increasing the travel time for anglers visiting from further afield. From dusk until dawn, there is little to no traffic in the area, meaning that there are periods of complete silence.
Walton Carp Lake At A Glance
Walton Carp Lake is a little over 3 acres in size and has a central island in the main body of water. There are 2 spits of land that divide the water and create a back bay.
There are 15 pegs available, though a maximum of 13 anglers are allowed to fish at any time. The main body of water has 11 pegs, while the back bay accommodates the 4 remaining pegs.
The lake bed is predominantly silt, with a lot of leaves and other detritus also present. The average depth is around 4-5ft, with some shallower and deeper areas.
A gravel path around the perimeter of the lake enables the use of barrows, while each peg is wood chipped, making them bivvy-friendly.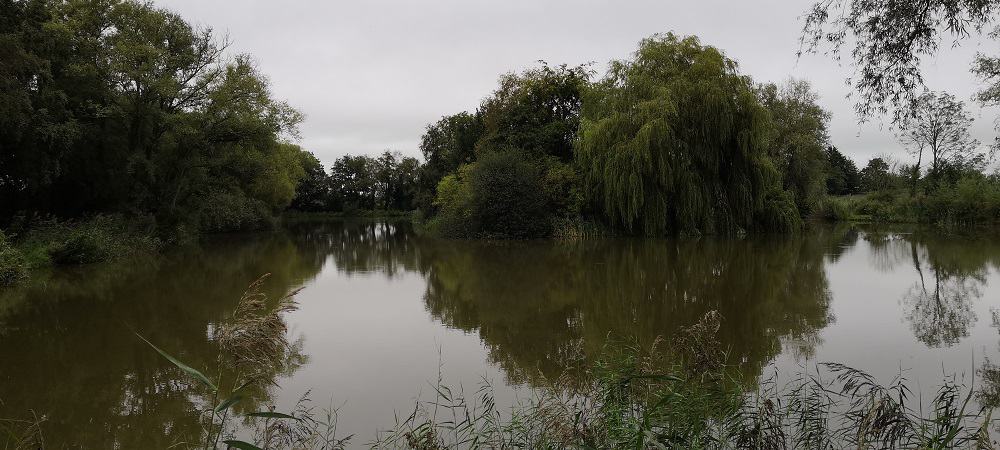 Stock Levels And Biggest Carp
The lake was formerly operated by Taunton Angling Association as a mixed coarse fishery. The current owners netted the lake soon after acquiring it, which showed a stock of around 50 carp.
Since then, a further 300 carp have been stocked, giving an average size of low/mid double-figures. A good head of 20lb+ carp also exist, with several edging ever closer to the magical 30lb barrier.
Many of the carp have shown good growth rates in recent years, reinforcing the claims that this will be a fantastic specimen carp fishery in the not-too-distant future.
Trending: We compiled a list of some of the cheapest lead suppliers in the UK. Take a look to see if you could save some money…..
Popular Pegs
Pegs 2, 3, 4, 10, 12 and 13 all have access to the central island, meaning that they are in-demand with visiting anglers.
The larger areas of water at either end of the lake are shared by pegs 1, 5, 6, 8 and 14, with each of them offering fishable areas in the margins in addition to the main bowl of water.
The back bay is split into 2 parts, with pegs 7 and 9 occupying the spit on the north bank, while pegs 11 and 15 share the water on the south bank.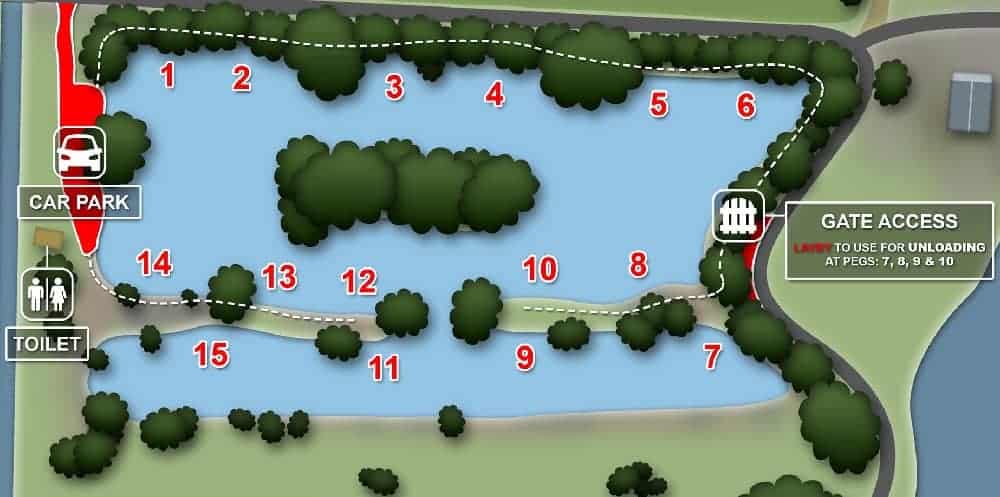 Successful Baits At Walton Carp Lake
When the new stocking of carp was introduced, they were initially fed on pellets, so this approach should never be ignored.
Strongly flavoured and brightly coloured boilies are recommended by many of the regular anglers due to the fact that the silt on the lake bed is very dark in colour and is quite smelly, so anything that can help to make a hook bait stand out can bring good results.
Natural baits are known to bring results all year round, though they tend to really come into their own during the colder months.
Facilities
There is a flushing toilet in the car park which is operational during the summer, while a composting toilet is used during the winter period. There is no electricity or running water on-site.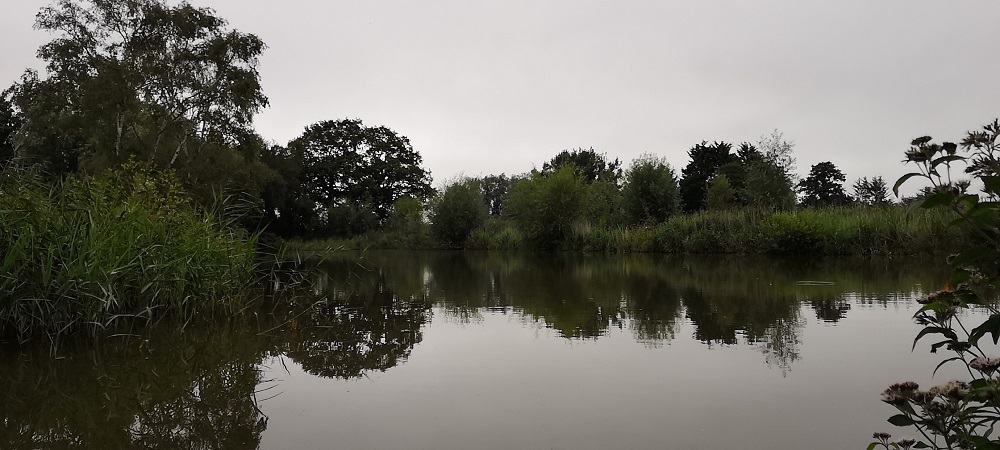 Car Park
For anglers fishing in pegs 7, 8, 9 and 10, there is a layby on the far side of the lake that enables loading and unloading of gear. Vehicles must then be parked in the main car park.
The main car park is secured by a gate which is padlocked. The access code is changed on a regular basis and is only provided to anglers who have booked and paid for their session.
Popular: Using a bait that you feel confident in can be crucial. These are some of the most popular boilies on the market
Ticket Price
Day tickets are valid for 12 hours and are priced at £10, while 24 hour tickets cost £20.
Discounts are available for longer sessions, with weekly tickets setting anglers back £120. All fishing must be booked and paid for in advance.
Conclusion
Walton Carp Lake is a picturesque fishery that will almost certainly continue to increase in popularity in the coming years.
This well-managed fishery has everything in place to become one of the premier venues in the region, assuming that the stock of pristine carp continue to thrive in their environment.
Have you ever fished at Walton Carp Lake? If you have, was your session a success? Please let me know in the comments.