Many anglers automatically assume that boilies are the best bait for carp fishing. While there is no doubting the fact that boilies have been a revelation since they were invented, there are some fantastic baits that often get overlooked, or forgotten altogether.
When your time on the bank is limited, it can be tempting to just stick with what you know and go for a proven bait. However, with 99.9% of other anglers all doing the same thing, changing your baiting approach can often be the difference that you need to stand out from the pack.
Let's take a look at some of the popular and not-so-popular baits for carp fishing that will (hopefully) increase your catch rate.
Cherry Tomatoes
I thought that I would start this list with a not-so-popular bait for carp fishing.
Cherry tomatoes are widely eaten by humans as part of a healthy diet and have been linked to reducing the risk of cancer and heart disease, as well as having multiple vitamin benefits – so it is no surprise that carp will also consume them when available.
Carp thrive in natural environments, and in lakes where no anglers are present, they survive on a completely natural diet, including small food items that fall into the water from trees.
Some anglers are reluctant to think outside the box and try something different, and I'll admit that when it was first suggested that I use cherry tomatoes as a hook bait, I wasn't that keen. However, on my next visit to a local runs water, I decided to test them out and, sure enough, less than an hour into the session, my right-hand rod was away.
How To Fish With Cherry Tomatoes:
Small cherry tomatoes are the perfect size for threading onto a hair rig and almost boilie-like in appearance. It is important to pierce the skin a couple of times with a baiting needle, as this will allow the natural juice to seep out into the surrounding area.
Cherry tomatoes are completely natural, low in fat and are a great source of vitamins – so why wouldn't carp like them?
Sweetcorn
We move on from a not-so-popular bait, to arguably the most prolific carp fishing bait of all time – sweetcorn.
Sweetcorn has been responsible for the capture of large carp all over the world and is a firm favourite in the UK, both as a hook bait or as part of a spod mix.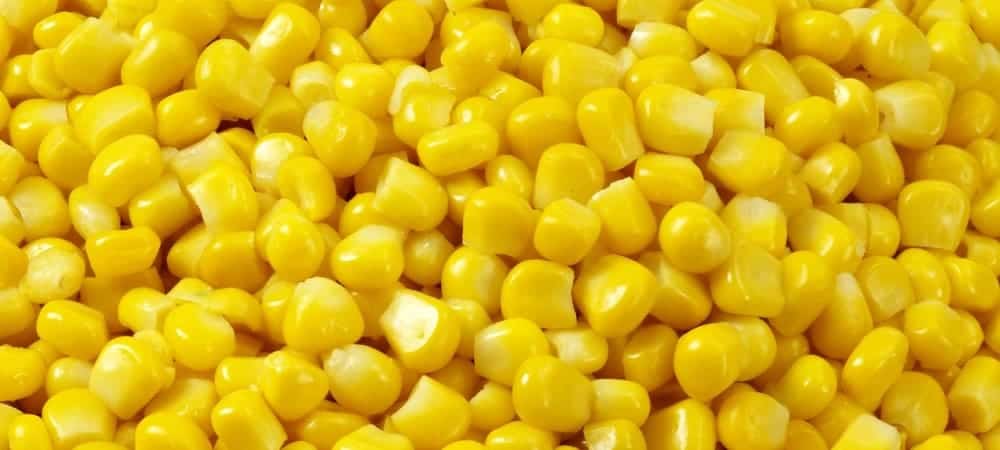 There are a number of reasons why sweetcorn is so popular:
Sweetcorn is very high in carbohydrates (typically 50-75%), which gives the carp some much-needed energy to patrol the lake while on the lookout for more sources of food. It is also high in fibre, vitamins and minerals, which not only make it nutritionally beneficial for carp, but also easy to digest.
Whether carp can see in colour or not is a topic that is still debated to this day, but for anglers who have extra confidence in brightly coloured baits, sweetcorn's high visibility should be a reassuring factor.
In most supermarkets in the UK, you can buy 1kg of frozen sweetcorn for around £1. Tinned sweetcorn generally costs more, but will still be considerably cheaper than many other mainstream baits.
How To Fish With Sweetcorn:
I find it best to use several kernels of sweetcorn on a hair rig, though some anglers still use it directly on the hook with devastating effect. I will often fish natural sweetcorn with 1 or 2 pieces of imitation corn in situations where I need to present a buoyant bait.
Peperami/Sausage
Peperami has been very popular with carp anglers for decades, both as a tasty bank-side treat and as an extremely effective hook bait.
Personally, I have had more success with Peperami on easier waters than I have at pressured fisheries, though some anglers I know have landed their personal best's while using Peperami at low-stocked syndicates.

This meaty snack is high in fat, saturated fat and protein, and also has a high oil content. It is the latter that is believed to be key to the success of using Peperami during the colder months for carp, as it progressively releases the attraction into the water column.
How To Fish With Peperami:
In most instances, I tend to fish Peperami as a bottom bait. Leaving the skin on will allow the bait to remain intact for longer, though trimming the skin off can accelerate the oil leakage. If you do need to pop it up in order to present it better, a piece of cork or zig foam will usually do the trick.
It is worth noting that meat baits can be difficult for carp to digest, especially during the winter, so I would only recommend using Peperami as a hook bait, rather than baiting a big area with it. (If you have trimmed the skin off, then adding the off-cuts to a stick mix or PVA bag will be fine).
Boilies
Arguably the most widely used carp fishing bait in the world, boilies have been around since the 1970s.
Shelf-life boilies were always in the shadows of their frozen counterparts, particularly when it came to freshness and the nutritional benefit that they provided to carp. In the last decade, however, many bait companies have paid much more attention to the ingredients that they use and have developed baits that are not only irresistible to carp, but also provide them with all of the proteins, fats, vitamins and minerals that they require in their diet.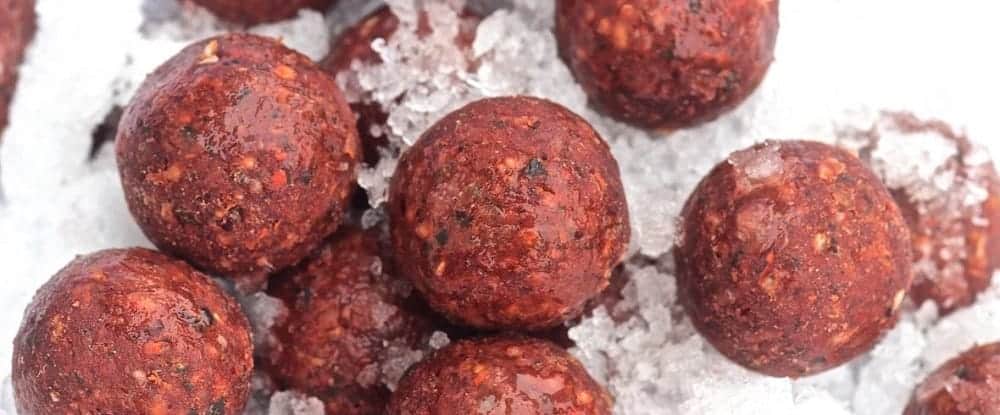 Some boilies are renowned for their winter form, others for the results that they produce in the summer – and some consistently put fish on the bank all year round. Certain lakes have been known to get hung up on a particular boilie, with newcomers blanking if they are not "in-the-know".
Related: 9 of the best shelf-life boilies on the market right now
Personally, I tend to choose 2 flavours of boilies and stick with them for at least a whole season. If the results keep on coming, then I see no reason to change.
How To Fish With Boilies:
Boilies can be fished on the bottom, popped up, wafting, on the surface or anywhere in between. I always say that confidence is one of the most important elements of carp fishing, so I recommend finding a bait and a presentation that you are confident in, and continue with it.
Potatoes
Prior to the invention of boilies, a lot of anglers used potatoes to try and tempt carp, and they seem to have become a forgotten bait in more recent years.
Potatoes are one of the most popular food items for humans and, when prepared properly, are actually very nutritious. They are a good source of fibre and vitamins, which may increase their appeal to carp.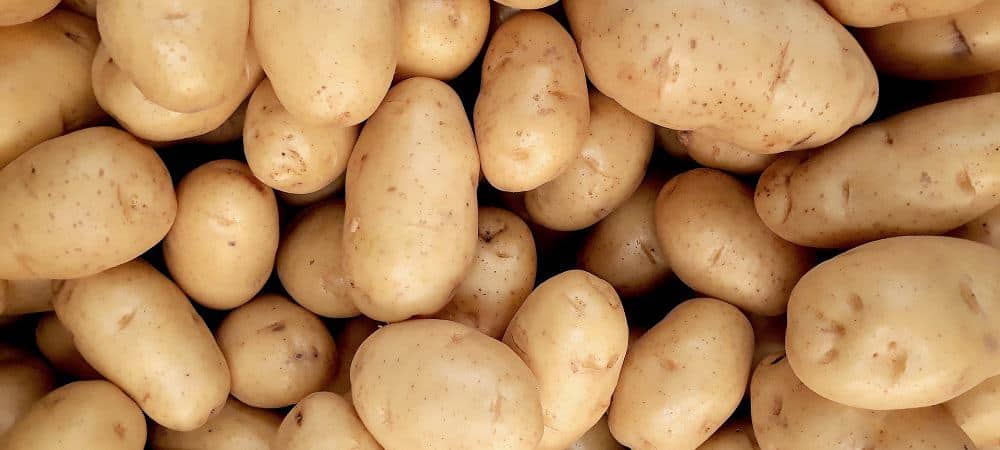 I remember back to my first night fishing session in the early 90s at a lake near Crediton in Devon. I was getting low on bait after 3 or 4 nights, but I did have plenty of tins of new potatoes with me. As my dad always swears by any bait that is natural, I decided to hair rig a baby new potato and, later that day, I had a new personal best in the form of an 18lb 6oz mirror!
How To Fish With Potatoes:
Over-boiled potatoes can actually be used to great effect by simply mashing them up and catapulting out small balls into your chosen area. You can add any flavourings that you choose to further increase the attraction. As a hook bait, a baby new potato can be fished on a hair rig, but I recommend using canned potatoes for this, as they tend to be par-boiled.
Luncheon Meat/Spam
Another bait that is widely used by anglers in search of big carp is luncheon meat.
Most luncheon meats are high in fat and also contain a large amount of salt. As we know, carp are partial to both of these, so it is no wonder that they are unable to resist the temptation of these meaty morsels.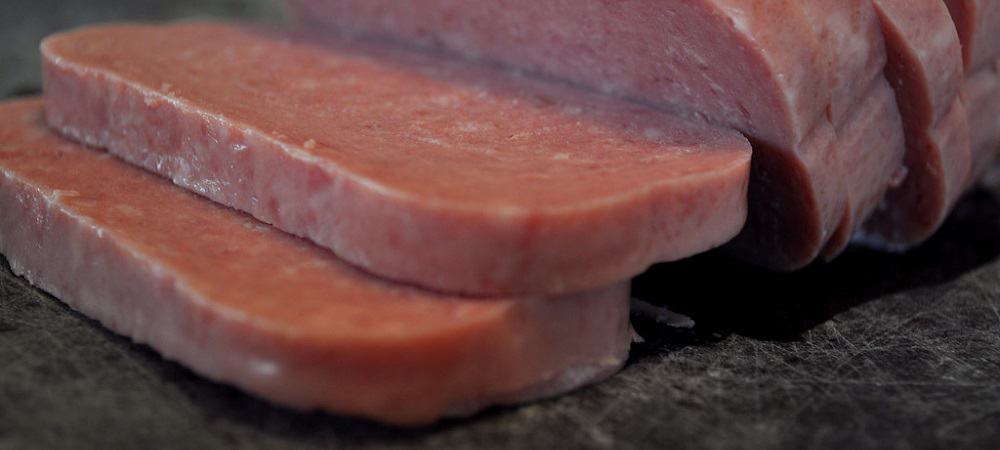 Although it can be devastating straight out of the can, luncheon meat is extremely versatile and will absorb flavourings and colourings with ease. Don't be afraid to experiment with different flavour profiles either – a fruit flavoured luncheon meat can be incredibly effective.
Many of the luncheon meats that are marketed by the major bait companies are a lot more expensive than the ones from the supermarket, but the meat does tend to be a lot firmer. Personally, I am too thrifty to pay 3 or 4 times the price for ultimately the same product, so I always prepare my luncheon meat the day before a session and lightly fry it in some oil and seasoning – this makes the edges a bit crispy and the overall offering even more tempting.
How To Fish With Luncheon Meat:
Luncheon meat can be fished directly on the hook, on a hair rig, in a feeder and can even be finely diced and used as part of a spod mix. I find that a big chunk of luncheon meat on the hair, with some finely diced pieces and some micro pellets in a PVA bag usually work quite well.
Maggots
These little wrigglers have been used as fishing bait for hundreds of years – and they still catch as consistently today as they did back then.
I didn't realise until very recently that maggots can actually contain up to 60% protein, which is most likely why carp and other species of fish are so fond of them.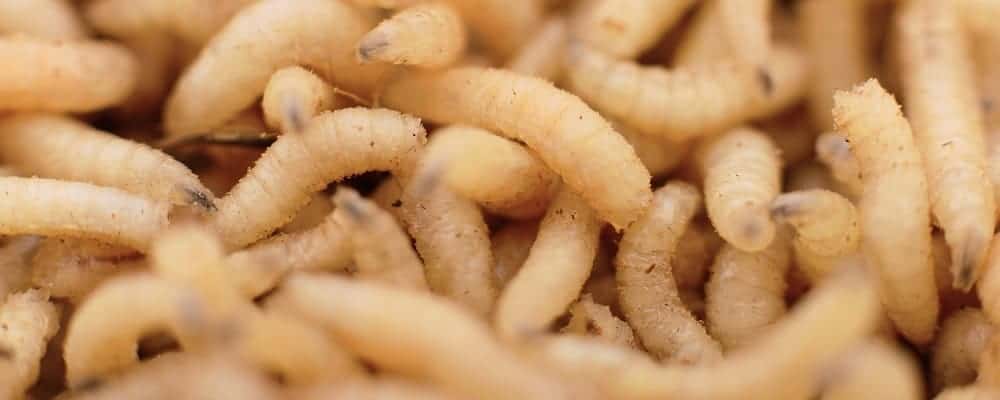 Like a lot of anglers, I tend to use maggots more often in the colder months. The fact that so many anglers shy away from maggots during the warmer months can actually provide an edge to those who are using them during this time, and a change of bait is something that you should look at if bites are hard to come by.
How To Fish With Maggots:
Traditionally used on the hook, many maggot rigs have been developed over the years to improve presentation and enable anglers to use maggots in situations where it wouldn't have otherwise been possible.
I usually thread 10-15 maggots onto a length of rig floss and then tie that to the hair. If I want to fish them popped up, I will position a piece of cork on the hair that is sufficient to make the rig buoyant.
Worms
Worms are up there among the most natural baits that are used for carp fishing.
Many carp anglers rarely stray from using boilies as their hook bait, so using natural offerings such as worms can really provide something different at times when your confidence is suffering.
As with many naturals baits, anglers tend to use them more often during the winter months, though worms should be considered as a bait that can deliver results year-round.
How To Fish With Worms:
With the development of specific rigs, I no longer present worms directly on the hook like I used to, though I wouldn't hesitate to do so once again, should the situation require it.
More often than not, I will tie a long hair and thread the worm on in a concertina formation. Alternatively, I will extend the length of the hair even more and present the worm length-ways.
Another popular method is to chop the worm into small pieces and thread them onto a hair, thus releasing more attraction into the water column.
Tiger Nuts
Despite having nut in its name, a tiger nut is actually a tuber, meaning it is more closely related to the potato than any kind of nut.
You will find many lakes that ban the use of tiger nuts, not because they are bad for carp, but because they can be dangerous for carp if they aren't prepared correctly.
Related: The Best Particles For Carp Fishing And How To Prepare Them
I always prepare my tiger nuts a few days in advance of my session, leaving plenty of time for soaking, boiling and fermenting.
Tiger nuts contain a lot of fibre, vitamins and minerals and, if prepared correctly, can be an outstanding bait for carp.
Pay attention to the fact that they are extremely filling, so I find it is best to add a couple of handfuls (either whole or crushed) into my spod mix and use a couple as a hook bait.
How To Fish With Tiger Nuts:
A tiger nut – either popped up, or as a standard bottom bait – is among the most successful single hook baits in carp fishing history.
Regardless of what I am fishing over, I always like to drill my tigers out a bit and insert some cork to add a little bit of buoyancy. There is something about a tiger nut, gently wafting over a bed of loose feed, that is almost irresistible to carp. If you haven't tried it already, make sure you do – you won't be disappointed.
Pellets
The majority of carp are reared on pellets, so it is no wonder that they continue to be a popular choice within the carp fishing fraternity.
While pellets are often used as loose feed or as part of a spod mix, they don't tend to be so popular with carp anglers as a hook bait.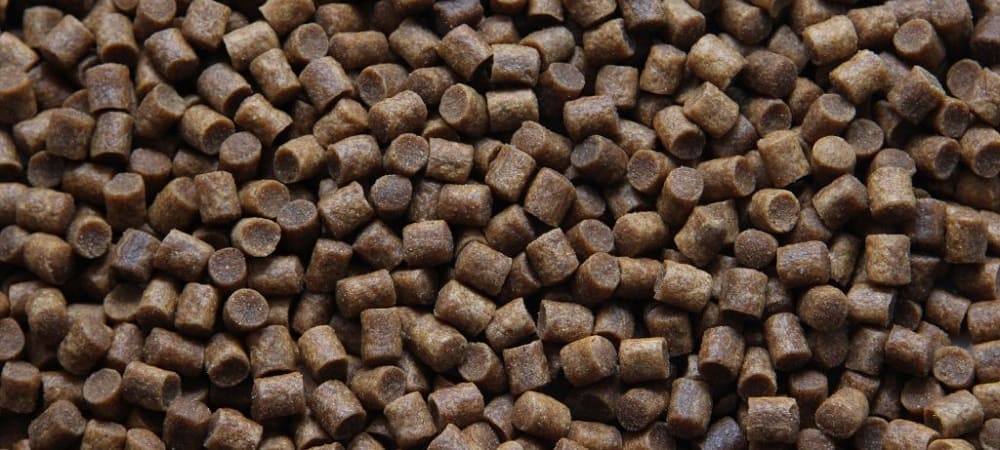 This lack of popularity can often give an added edge on some waters where carp will be comfortable getting their heads down on a pile of pellets, without a brightly coloured pop-up arousing suspicion.
How To Fish With Pellets:
In addition to being used as loose feed or as part of a spod mix, pellets can bring great results as a hook bait. Small pellets can be secured using a bait band, while larger pellets are usually pre-drilled which enables them to be securely hair-rigged.
Pellets are available as sinkers or floaters, so are able to be used in a variety of presentations.
Cheese
If you ask some carp anglers what they use cheese for, I bet that the majority of them would say that they put it in a sandwich on their RidgeMonkey toaster!
I too am partial to a bit of melted goodness on the bank, but cheese should never be overlooked as a bait for carp.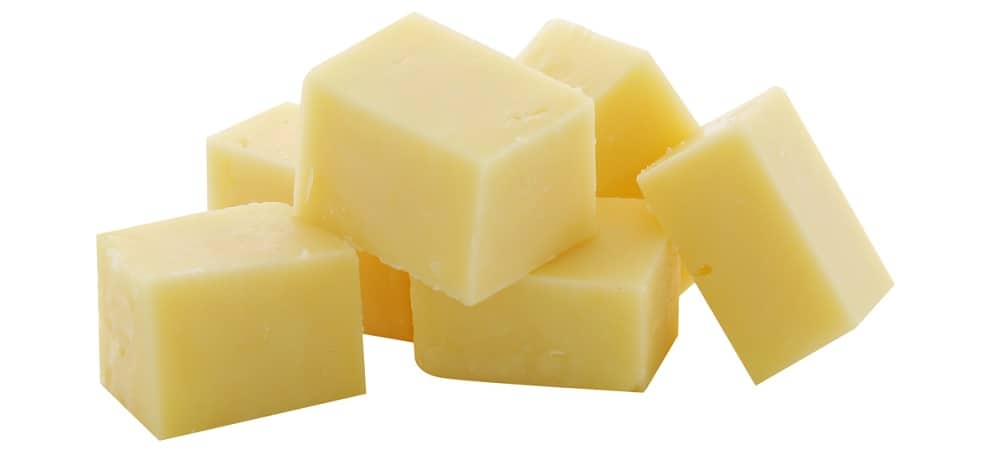 Cheese seems to be one of those forgotten baits that rarely gets used by carp anglers and is more likely to be found in the bait box of a chub angler.
How To Fish With Cheese:
The most effective way to fish with cheese is to mount a piece on a hair rig. Anglers who do fish with cheese tend to use cubes, so using different shapes and sizes can mix things up a bit.
There are many ways that cheese can be adapted, but one of my favourites is to prepare some pieces as hook baits and then dip them in Marmite (most carp tend to love it!) for some added attraction.
Mussels
Freshwater mussels can often be the bane of a carp anglers life, causing many a lost fish over the years with their razor sharp edges.
However, their saltwater counterparts have gone some way to making amends and have been responsible for numerous big fish captures.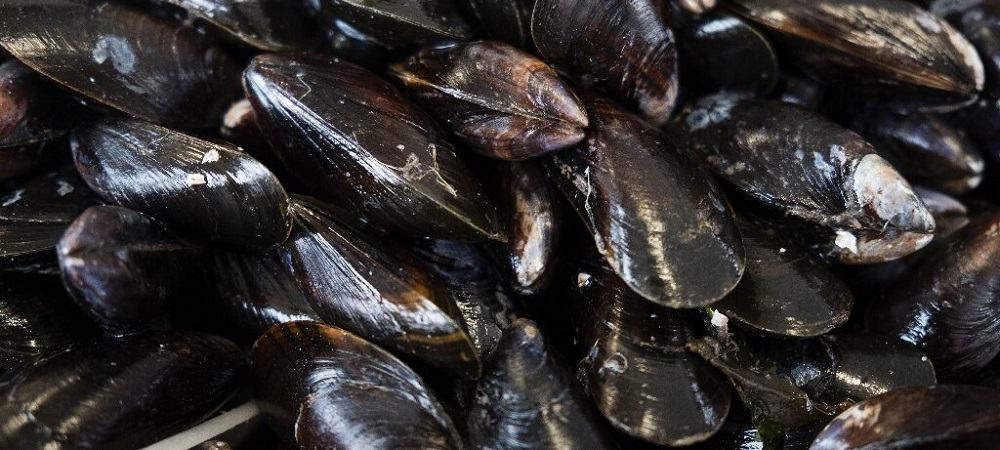 It is no wonder that mussels are favoured by carp as they are low in calories and fat, while delivering a good hit of protein and are a good source of omega 3 fats.
How To Fish With Mussels:
I always fish with mussels on a hair rig as I feel that it is the best way to secure them. Alternatively, they can be presented directly on the hook.
If you wish to enhance your spod mix, then you will find many companies that offer minced mussel meat. Although it can be quite expensive, I find that even a small amount can add that extra dimension that may help you to stand out.
Rice
Rice has been used by carp anglers for countless years, with many of them choosing to keep it quiet so as not to give away their edge.
White rice is low in fat and sugar and is a good source of energy as it is high in carbohydrates. Brown rice contains slightly less carbohydrates than its milky-coloured counterpart, but is a better source of vitamins and fibre.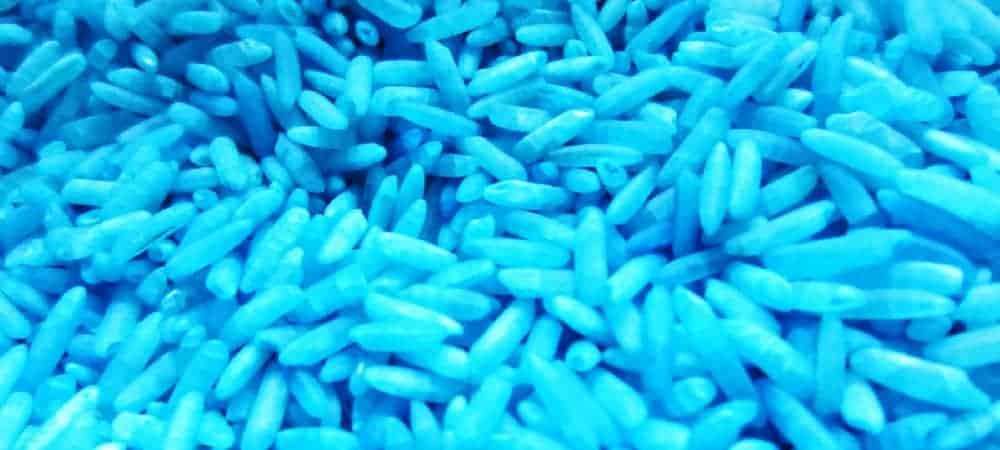 With carbohydrates being the main attraction and rice grains being quite small, it is an excellent choice to entice carp into your swim and get them grubbing around on the lake bed close to your hook bait.
How To Fish With Rice:
With rice not really being feasible as a hook bait, it is most often used as part of a spod mix or tightly packed together as a ball of loose feed. As rice absorbs liquids well, it can also be used in a PVA bag or mesh stick.
Rice can be extremely effective by simply boiling it, but its attraction can be increased drastically by introducing colours and flavours. Try adding a food colouring of your choice (bright colours tend to work well) along with a strong flavour (garam masala is my current option) and see how your results can improve.
Tip: Add some milk powder to create a clouding effect in the water column!
Conclusion
With a mixture of modern-day choices, old classics and forgotten favourites, I hope that this article has given you some inspiration to try at least one bait that you haven't used previously.
While there are a lot of variables to consider when it comes to enjoying success on the bank, I often think that a back-to-basics approach can yield the best results.
Have you used any of the baits listed above? Is there a different bait altogether that has brought you a run of brilliant results? If you have a secret that you are willing to share, please let me know in the comments.