Distance sticks are a wonderful piece of kit for any carp angler who is wanting to cast accurately on each attempt or who doesn't like "walking out" their chosen range.
You will often hear anglers discussing how many "wraps" they have cast, which is simply another way of saying how many rod lengths they are fishing at.
It is widely accepted that 1 wrap = 12ft (or 4 yards)
To use distance sticks correctly, you simply push them into the ground 12ft apart (this can be adjusted if you are using shorter or longer rods, but it really isn't necessary). After finding the exact location you want your bait to be in, you place your line onto the clip on your reel before reeling in and you can then measure that distance and ensure that your bait lands in the same place with every cast.
We will now take a look at some of the best distance sticks on the market, starting with the cheapest and finishing with the most expensive.
NGT Distance Sticks
NGT (or Next Generation Tackle as they are otherwise known) often bring products to the market that are on a par with those of their rivals, but for a fraction of the cost.
These distance sticks are constructed from aluminium and have "glow in the dark" tips. They ship with a 12ft distance cord and a multi-pocket carry case.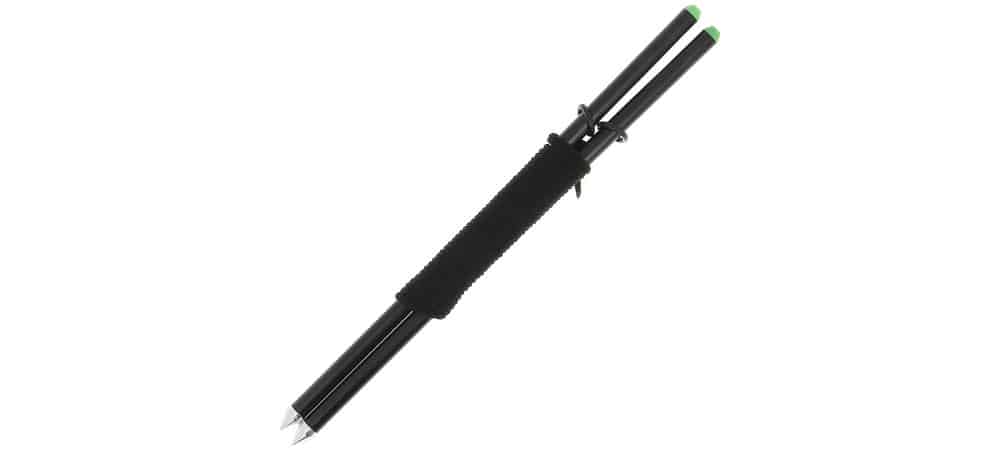 However, I did notice that the "glow in the dark" tips don't glow too brightly and, in comparison to some of their competitors, these distance sticks from NGT are a little on the short side.
Having said that, unless you are fishing at extreme distances, the length will be enough for most anglers and unless you are fishing in absolute pitch black conditions and don't have a head torch, the glow in the dark tips should suffice.
The RRP of these distance sticks is £10, but you can often save 10% or more by purchasing them from
Amazon
or discount card holders at
Go Outdoors
can also make a good saving.
NGT Distance Sticks At A Glance:
Brand: NGT
Approx Price: £10
Approx Length: 18 inches
Cord Included: Yes
Fox Marker Sticks
From humble beginnings back in 1964, Fox has evolved into one of the most respected companies in the world of carp fishing.
Constructed from anodised aluminium, the Fox Marker Sticks include ultra-high visibility tips and also include a slot in which you can fit an isotope.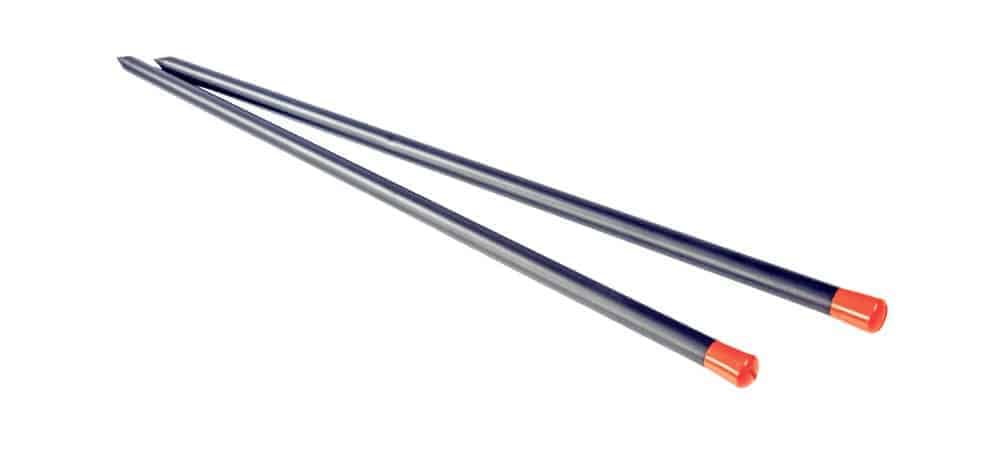 Unlike some of the rival products on the market, the Fox Marker Sticks are completely straight, meaning that you will need to take your rod tip to and from each stick when retrieving your line. They ship in a carry bag, but the measuring cord is not included.
Fox set the recommended retail price of their marker sticks at £10.99, so it is unlikely that you will make much of a saving beyond that. Both
Amazon
and
Angling Direct
usually have stock at the retail price.
Fox Marker Sticks At A Glance:
Brand: Fox
Approx Price: £11
Approx Length: 24 inches
Cord Included: No
Bison Carbon Fibre Distance Sticks
Bison is an American brand that you may associate more with boats or outboard engines, but they also have an extensive line of fishing equipment.
A common complaint about some distance sticks is that they can snap or be damaged after extended use. Bison has moved to avoid that issue by manufacturing their distance sticks from carbon fibre, which is up to 10 times stronger than aluminium.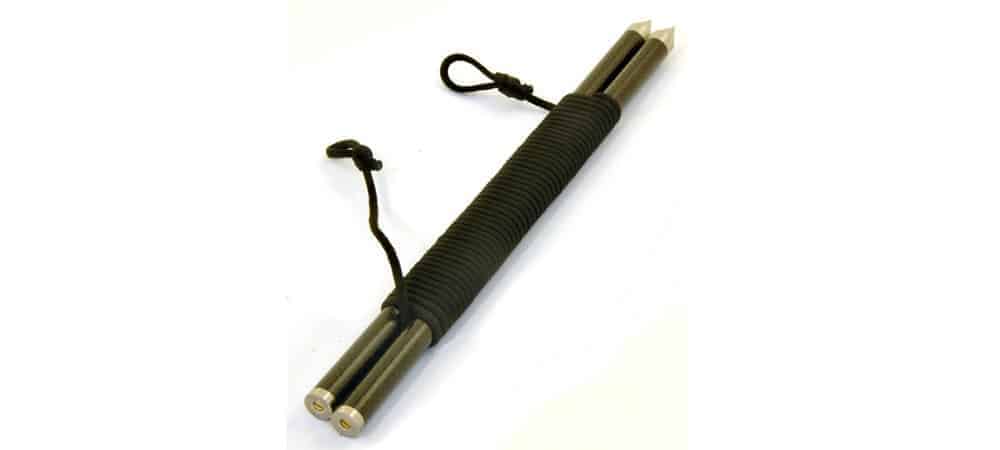 These rolled carbon fibre sticks are finished with stainless fittings, making them among the strongest and lightest distance sticks available.
Bison's distance sticks usually sell for approximately £20, but
Amazon
and
Fishing Mad
usually offer a small saving.
Bison Carbon Fibre Distance Sticks At A Glance:
Brand: Bison
Approx Price: £20
Approx Length: 24 inches
Cord Included: Yes
Cygnet Distance Sticks XL
Cygnet Distance Sticks are produced in 2 different sizes, but it is the XL version that is under the microscope today.
The standard distance sticks from Cygnet are a little on the short side at only 18″ in length, with the XL version doubling that to a generous 36″ (or 3ft), making them ideal for anglers who fish at range and therefore have more line to wrap out.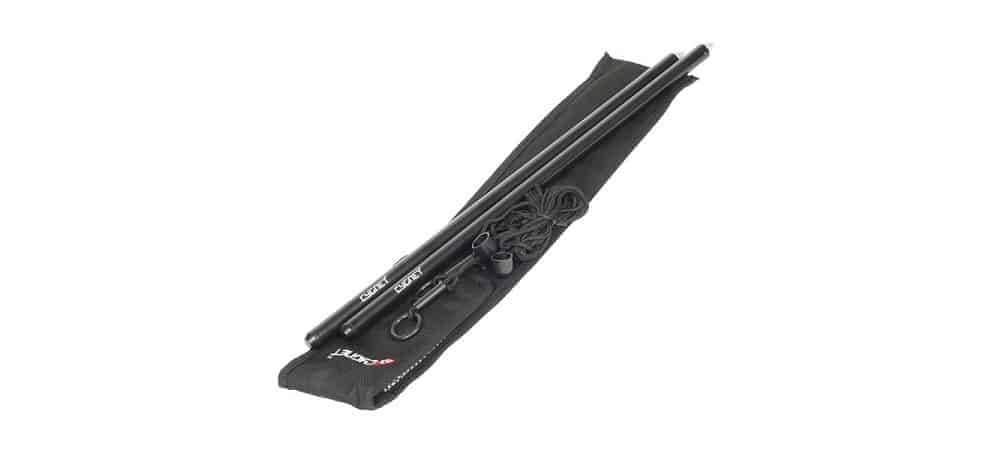 They boast a sleek, minimal design, with the logo etched towards the tip of each stick. They ship with a carry case and a distance cord included.
You will generally find these distance sticks priced at around £20, but there are sometimes small savings to be made when ordering from
Amazon
or
Angling Direct
.
Cygnet Distance Sticks At A Glance:
Brand: Cygnet
Approx Price: £20
Approx Length: 36 inches
Cord Included: Yes
Trending: Rod pods are an essential part of your fishing gear, but you needn't spend a fortune when buying one. Take a look at the best rod pods for under £100
Avid Carp Screw Point Yard Sticks
Avid Carp is a relative newcomer to the carp fishing realm in comparison to some manufacturers on this list, but they have very quickly established themselves as one of the best in the business.
Avid Carp have several distance stick offerings in their range, but these are the ones that tick all of the boxes. Made from lightweight aluminium, these yard sticks have a screw point that makes it a lot easier to penetrate the unforgiving banksides that we often encounter.

The feature that I love most about the Avid Carp Screw Point Yard Sticks is that the supplied distance cord has three colour-coded toggle stops, enabling you to accurately clip up different distances for each of your rods. This may seem like such a simple addition, but it really does take the headache away of having to guess a quarter, half or three-quarters of a wrap.
The glow in the dark tips really do shine brightly at night and the slight curve at the end of each stick allows your line to be easily retrieved. The sticks and toggled cord are supplied in hard-wearing, branded carry bag.
The Avid Carp Screw Point Yard Sticks retail at around £25, but you can usually save a few pennies when ordering from
Amazon
or
Angling Direct
.
Avid Carp Screw Point Yard Sticks At A Glance:
Brand: Avid Carp
Approx Price: £25
Approx Length: 24 inches
Cord Included: Yes
ESP Wrap Sticks
If you are an angler who takes pride in the appearance of their setup, I am sure that these wrap sticks from ESP would be a welcome addition.
Manufactured in the UK from high-quality stainless steel, these wrap sticks incorporate brightly coloured tips and are easily visible. They come supplied with a distance cord and durable carry pouch.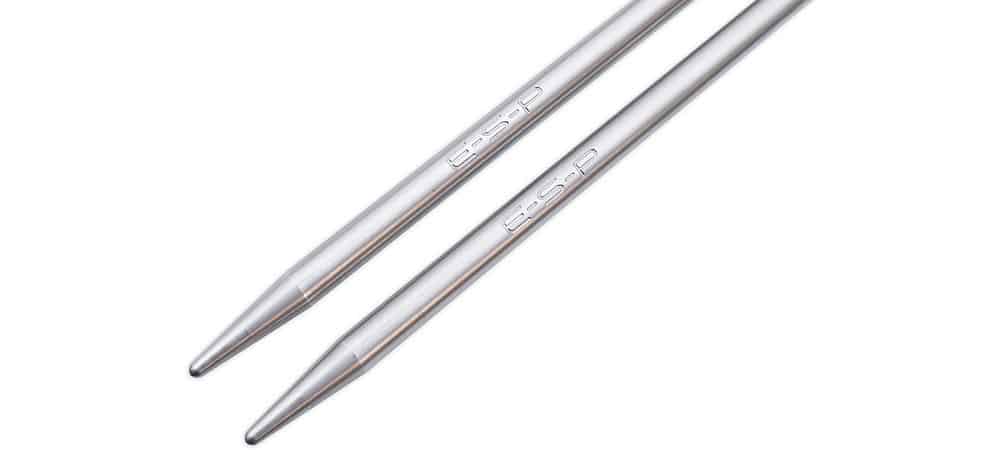 In addition to the 2 wrap sticks, the package also contains 3 spot markers which are numerically engraved to specify rod 1, 2 or 3 and enable anglers to wrap out the exact distance that they have cast.
Most stockists sell the ESP Wrap Sticks for under £40, with the best prices usually found at
Amazon
or
Angling Direct
.
ESP Wrap Sticks At A Glance:
Brand: ESP
Approx Price: £35
Approx Length: 18 inches
Cord Included: Yes
Korda Distance Sticks
"Each stick is a thing of beauty" is how Korda introduced their distance sticks to the market, and once you've seen them up close, it is hard to argue with that statement.
Developed by Korda and manufactured by JAG Products, these distance sticks were always destined to be something special.
They are supplied with a T-bar that enables them to be screwed into the hardest ground, thanks in part to the specially designed auger.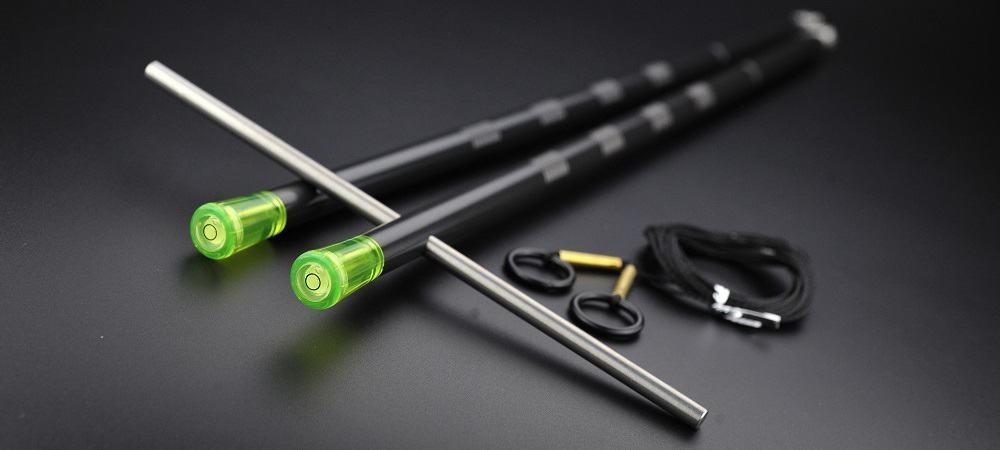 Each stick has distinctive line grooves that prevent slippage when wrapping up and the tips boast an integrated spirit level that can be removed and replaced by an isotope.
When released, the price of these sticks caused lots of debates within the carp angling community but, as the old saying goes, "you get what you pay for".
The recommended retail price for the Korda Distance Sticks is £60, though buying from
Amazon
can sometimes save you as much as 10% and there are often excellent deals available at
England Angling
.
Korda Distance Sticks At A Glance:
Brand: Korda
Approx Price: £60
Approx Length: 24 inches
Cord Included: Yes
Nash Wrapid Sticks
Nash produces a couple of different distance stick options, with their premium offering being these Wrapid Sticks.
Like many carp rods on the market today, the Wrapid Sticks boast a Japanese shrink grip handle that ensures your line doesn't slip or tangle while wrapping up.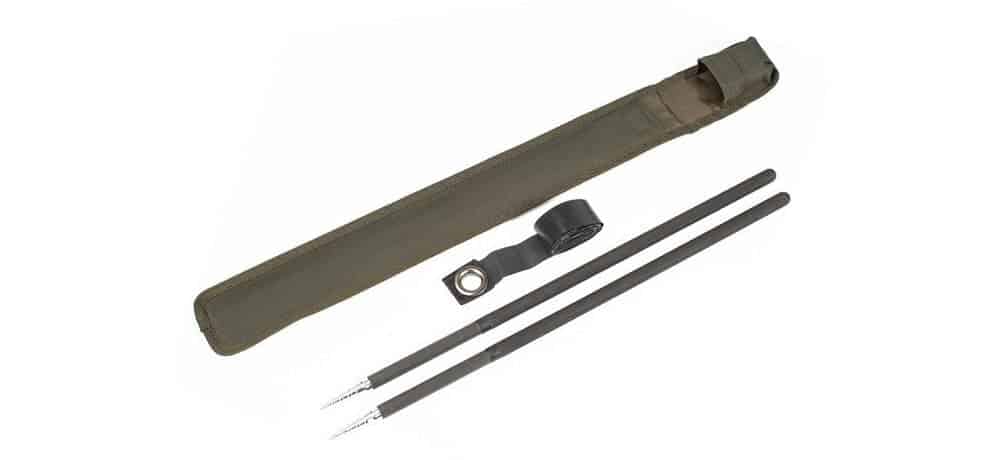 At one end, the machined aluminium auger ensures that you can drill these sticks into the toughest banks out there, while at the other end there are isotope slots to increase night time visibility.
The Wrapid Sticks come with a carry pouch and a heavy-duty distance strap that is neatly marked at 1ft intervals and has reflective markers that are easily picked out by a headtorch.
Like the Korda Distance Sticks, these are priced at the higher end of the scale and carry a recommended retail price of £60. A few suppliers on
Amazon
sometimes shave a couple of quid from the retail price and, as always,
Angling Direct
will price match any other online tackle shop.
Nash Wrapid Sticks At A Glance:
Brand: Nash
Approx Price: £60
Approx Length: 24 inches
Cord Included: Yes
CarpSmart Conclusion
So there we have it, a list of some of the best distance sticks on the market and ones that I have either owned or are being used by my fishing buddies.
Do you use distance sticks for your fishing? Do you think that there is really any need to spend £60 when you can buy some for £10?
If you liked this article and think that your friends might be interested to read it, please share it with them.