It seems that carp fishing is becoming increasingly popular, with some of the more popular day ticket lakes being booked up months in advance. If that wasn't bad enough, now the famous faces are getting in on the act, too!
With more and more people realising that a day, a night or a weekend on the bank can give you a peaceful escape from the hectic day-to-day lives that most of us lead, it is no wonder that celebrities are also starting to realise the benefits.
While you may already be aware that some of the famous names on this list like to also target our prized quarry, I am sure that there will be a few surprises, too.
Let's start off with one of the more recognisable stars of the carp world…..
David Seaman
Former Arsenal and England goalkeeper David Seaman has always loved fishing and was a regular on the bank during his playing days.
Famously known as "Safe Hands", David fishes for many species but has focused a lot of his attention on carp angling. His efforts have definitely paid off as he has banked specimens to in excess of 40lb!
If you wish to see David in action, he documents a lot of his catches across his personal social media channels and has appeared on the Thinking Tackle Podcast
Anthony Joshua
Although he is relatively new to the sport, British heavyweight boxer Anthony Joshua appreciates the relaxation that fishing can offer and it is now among his favourite hobbies.
On his first-ever fishing trip, AJ banked a hard-fighting carp that gave him a battle some of his famous opponents in the ring would be proud of!
Lee Bowyer
Former Leeds United midfield hardman Lee Bowyer grew up fishing on his local canals for silvers.
Many years later, a friend took him carp fishing for the first time and from that moment onwards it has been specimen hunting all the way.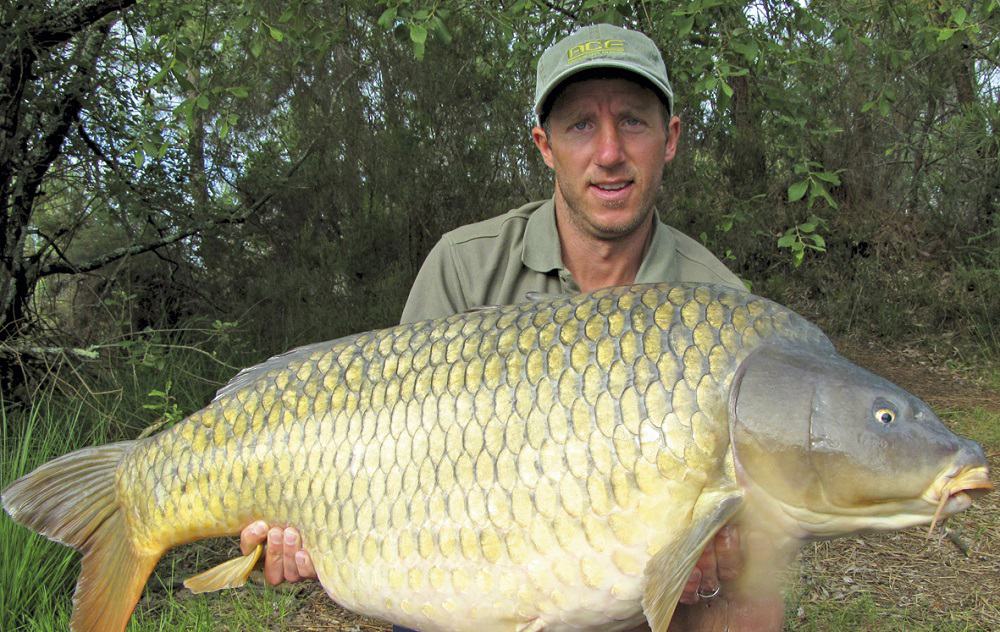 Such is his obsession with big carp, once Lee retired from professional football he bought his own fishing lake in France. He quickly renamed it from La Fritterie to Etang De Bows, and has since added another French lake – Lac Des Lesmont – to his fishery portfolio.
Renowned for being a tough-tackling player during his famous years at Elland Road, Lee also takes his fishing very seriously and boasts an impressive personal best in excess of 70lb!
Take a look at Bows Fishing Lakes.
---
Carp Lakes Near Me
More than 500 day ticket lakes are included in our comprehensive UK guide. Find carp lakes near you
---
Scott Maslen
It is more likely that you will recognise Scott Maslen from EastEnders, where he plays Jack Branning.
As well as being a famous actor, it seems that Scott isn't a bad carp angler, either.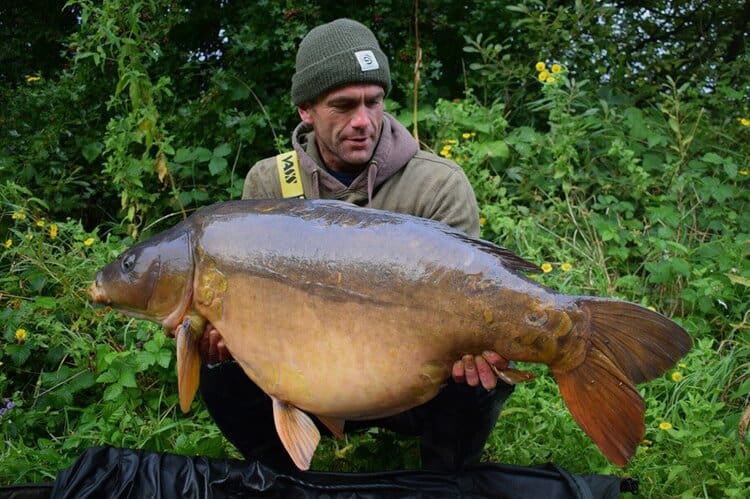 With a UK personal best that was agonisingly close to the 60lb barrier (59lb 12oz to be exact) and several others that have surpassed the 50lb mark, Scott certainly knows how to get among the big girls.
Scott regularly fishes at Orchid Lakes and the Wingham Estate – the latter is one of the finest carp fishing lakes in Kent. He documents many of his captures on his personal social media accounts.
Jimmy Bullard
Former Wigan Athletic and Fulham midfielder Jimmy Bullard took up fishing as a kid as is still as passionate about angling as he ever was.
He now hosts the Sky Bet podcast "Off The Hook" where he combines his love of fishing with his love of football. He is joined on the bank by famous, former players for a spot of fishing and a bit of banter!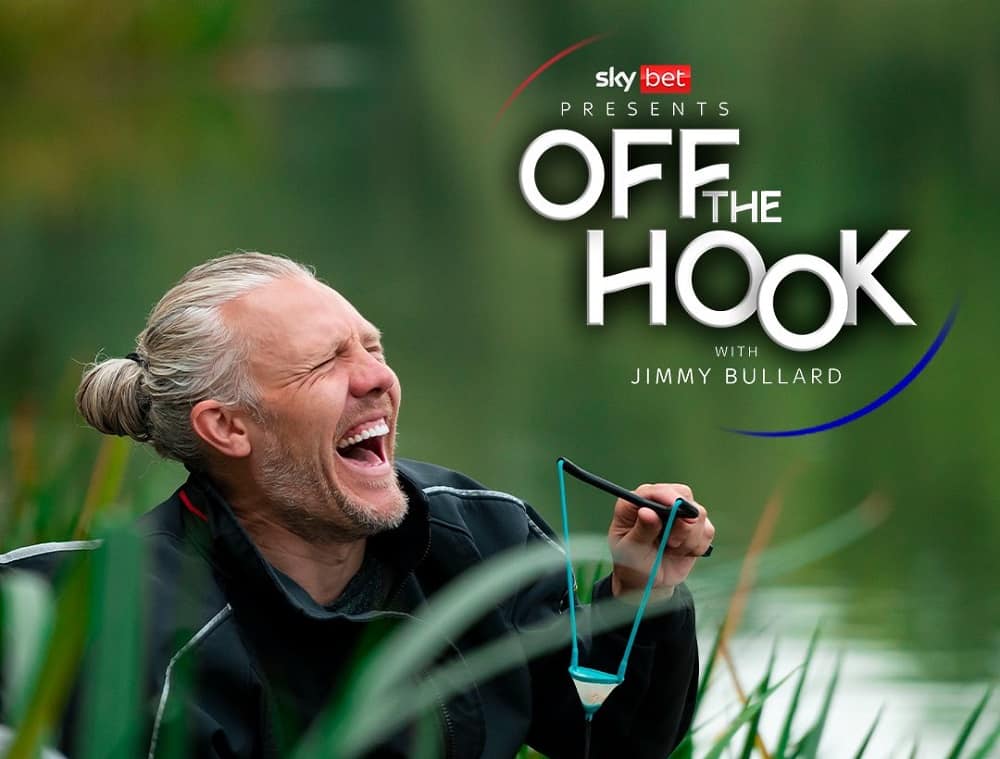 As well as fishing for carp, Jimmy also has a soft spot for barbel and likes to fish in competitions.
Bobby Zamora
Successful on the pitch with Brighton & Hove Albion, West Ham United and Fulham, former Premier League striker Bobby Zamora has been a keen angler since a young age.
He first started fishing when his grandad took him during the summer holidays from school, and once he had landed his first carp, there was no looking back.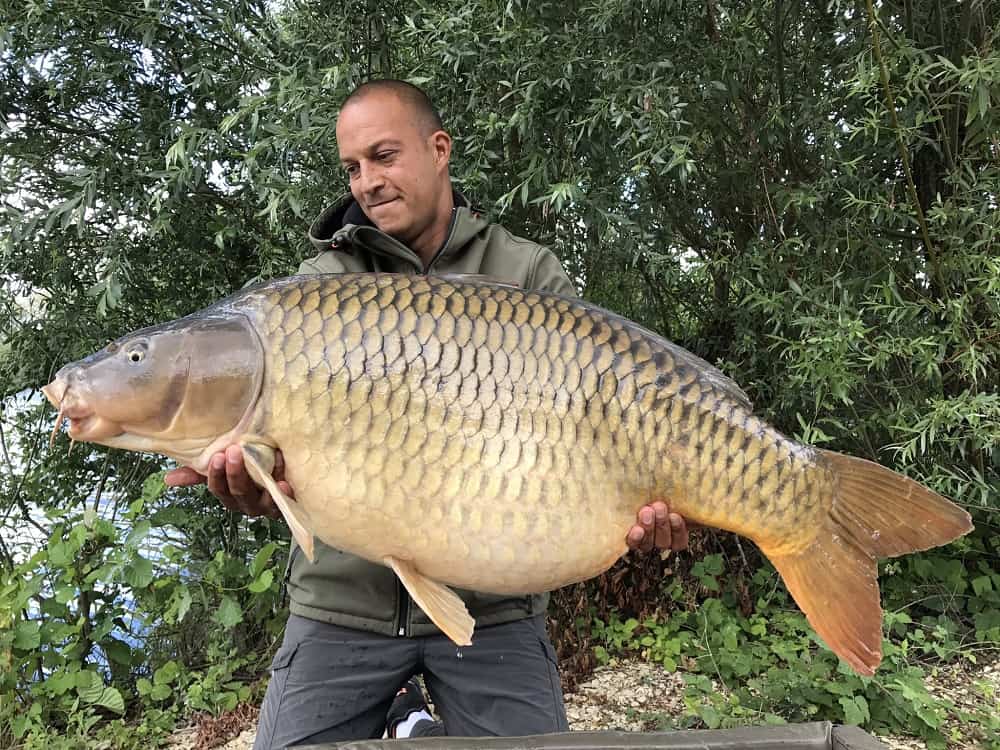 Bobby has a fishing photo album that many of us would be proud of, landing carp in the UK to 40lb and captures on the continent to over 50lb. He is a member of the famous Wingham syndicate in Kent.
You can catch Bobby Zamora on the Thinking Tackle podcast.
Tony Hibbert
Everton legend Tony Hibbert is arguably most famous for spending his entire professional career with the Toffee's, while never hitting the back of the net for them.
Having fished the Merseyside canals since a young age, Tony has always had a keen interest in fishing. Prior to retiring from football, he and his business partner purchased one of northern France's finest carp fisheries – the Lac De Premiere fishing complex.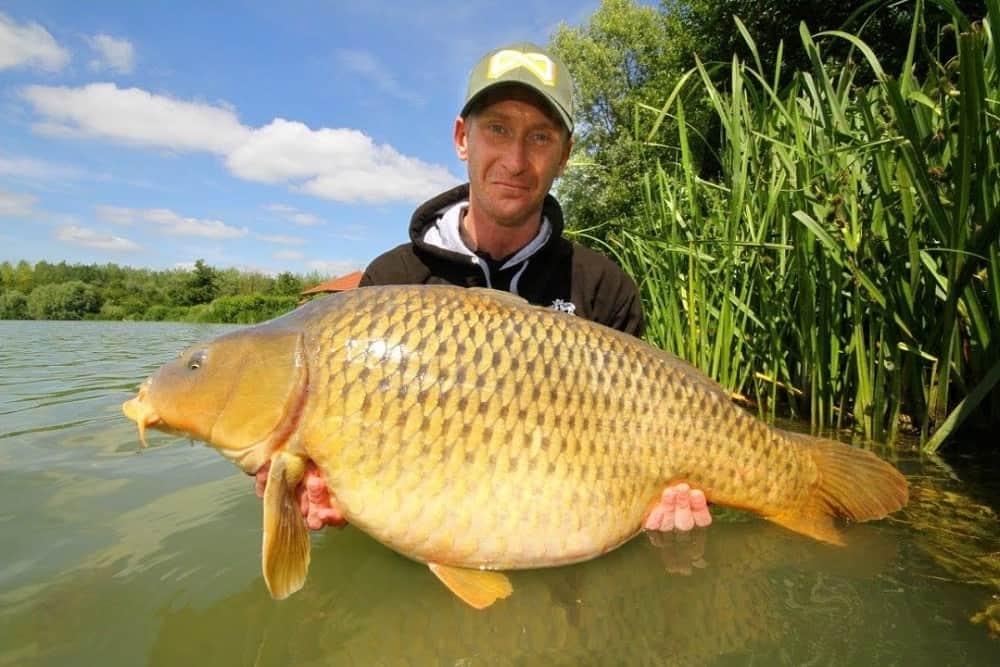 While the goal net never saw any action during his football career, Tony's landing net has more than made up it with a string of massive captures in the UK and at his own complex in France.
Take a look at Lac De Premiere.
John Terry
Former Chelsea and England captain John Terry was one of the best defenders of his generation. He will always be remembered by the west London faithful for guiding them to five Premier League titles, four FA Cups, three League Cups, one Europa League and one Champions League.
Away from football, JT has always been a keen angler who likes to target big carp. He regularly fishes with some of the other famous names on this list and has caught numerous fish, both home and abroad.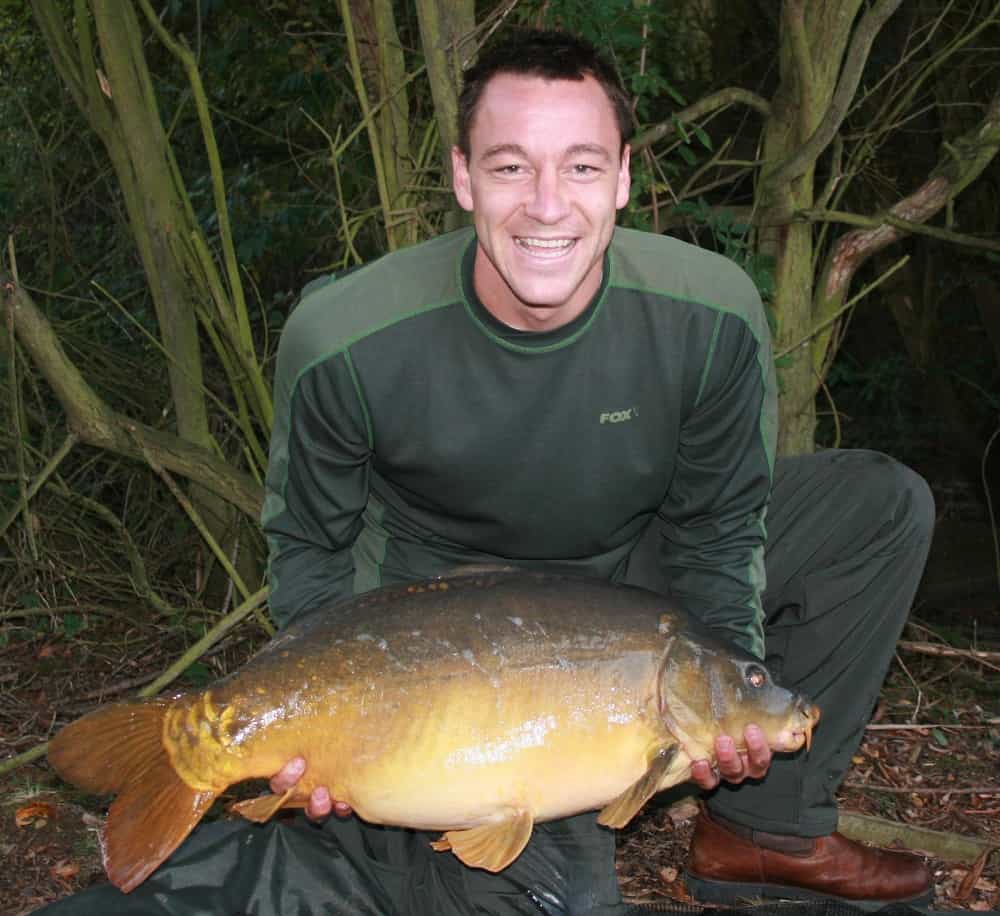 His passion for angling has developed over the years, so much so that when he submitted the plans for his dream home to be built, he had a fishing lake dug in the grounds.
---
Trending Article:
Could the UK produce a legitimate 70lb+ carp? Let's take a look at some of the potential British record specimens
---
Mark Noble
A lifelong Hammer, Mark Noble has played more Premier League games for West Ham United than any other player.
Before he was a famous top-flight footballer, Mark used to regularly fish the London park lakes with his dad. It wasn't until he did some fishing while on holiday in Florida that he became hooked again and carp became the focal point of his angling.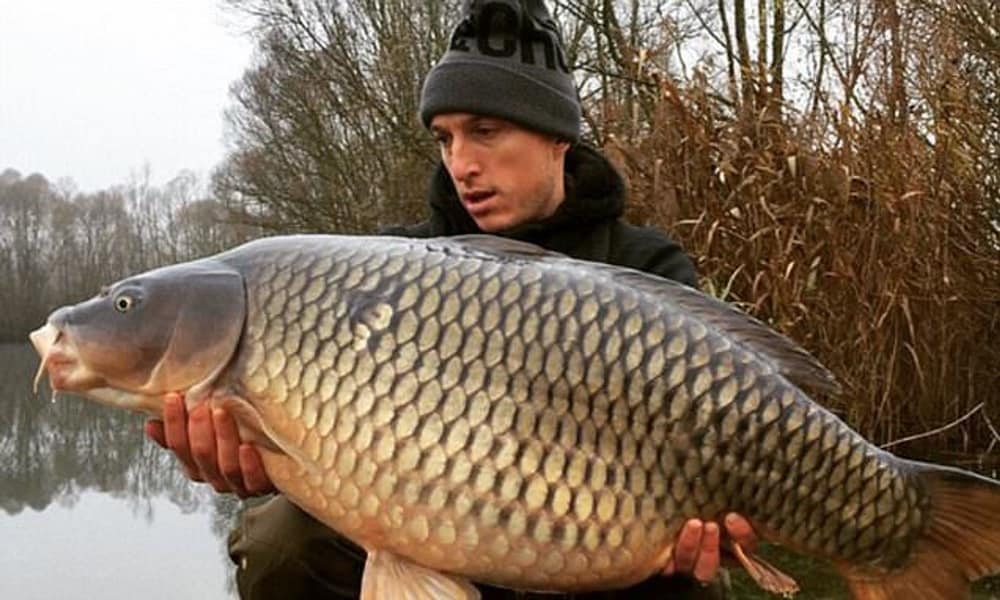 Since taking the sport up again, Mark has banked UK carp to in excess of 40lb and regularly fishes in France, where he has caught specimens to over 50lb.
Phil Foden
Manchester City and England midfielder Phil Foden has always enjoyed fishing with his dad (also called Phil) whenever they get the chance.
Their luck really took a turn for the better when Kevin Nash invited them to fish his Church Lake complex. Noticing the opportunity for some fantastic PR, all of the boys from the Nash team were on hand to help, with Phil and his dad both coming away from the trip with big PBs.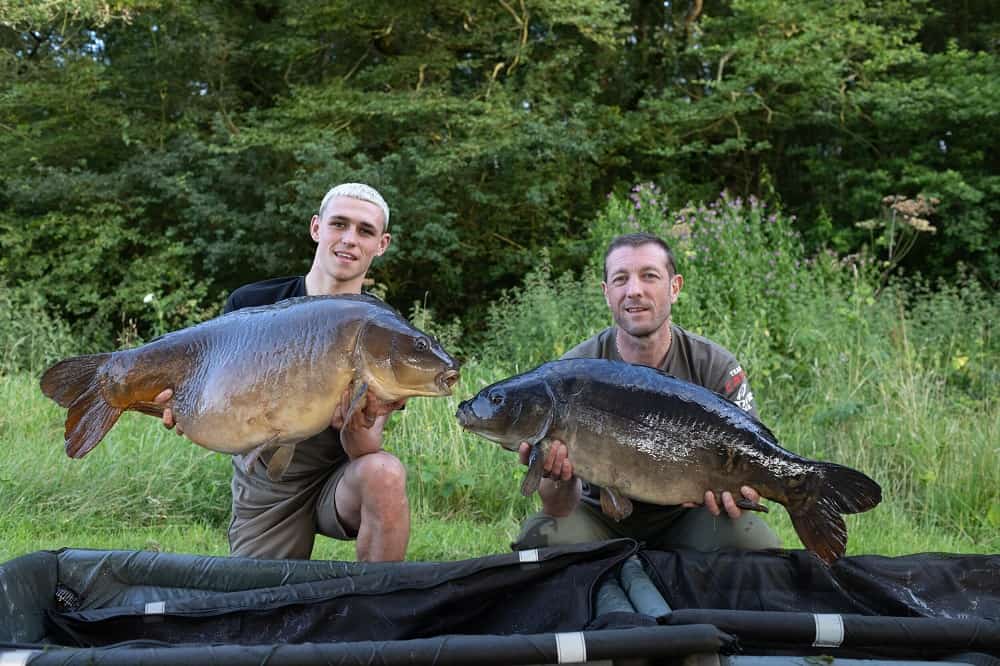 With many famous names from the carp fishing world also present, it certainly looked like everyone enjoyed their trip.
Georgia Stanway
Our list of famous carp anglers is completed by Georgia Stanway, who plays as a striker for Manchester City in the FA Women's Super League.
Georgia was introduced to carp fishing by her boyfriend, Rugby League star Olly Ashall-Bott, and has enjoyed some pretty good results so far.
Conclusion
Either there weren't many famous celebrities that went fishing years ago, or they were too ashamed to admit it!
Nowadays, it seems that more and more famous faces are getting involved in the sport that we love, and that can only be a good thing.
Are there any celebrities that have been missed in this article? Do you know of any A-listers that should have made the cut? Please let me know in the comments.