Hacche Moor Fishery is a carp fishery in South Molton that is gaining a wonderful reputation as a well-run complex that is home to some beautiful looking carp.
Before I visited Hacche Moor Fishery, I had no idea how to pronounce the name, so before I go any further, I can confirm that it is pronounced "Hatch Moor Fishery".
The owner of Hacche Moor Fishery, Andy Parkinson, has worked extremely hard over the last decade to create what is, in my opinion, one of the finest fisheries that I have ever had the pleasure to visit.
The fish are stunning, the location is picturesque, the facilities are fantastic and with the lakes only being available for exclusive bookings, you don't have to worry about the complex being oversubscribed on arrival.
The Carp Smart team recently spent 72 hours at Hacche Moor Fishery and, although we all blanked, we thoroughly enjoyed our time there and learned a lot about the complex, ready for our return visit.
Hacche Moor Fishery
Quick Look
With day ticket fisheries becoming busier, exclusive lake bookings are becoming more popular. Hacche Moor Fishery is a fantastic carp fishery that is nestled in the beautiful Devonshire countryside which offers exclusive booking of its 3 lakes. With fantastic facilities and an enviable stock of carp to over 40lb, it is no surprise that anglers are flocking here from near and afar.
Fishery Stock Levels

Fishery Peg Spacing

Fishery Facilities

Fishery Cleanliness
Directions To Hacche Moor Fishery
If you haven't visited Hacche Moor Fishery before, it can be a little bit tricky to find.
If you put the postcode into your sat-nav, it should bring you along the A361 before making a turn onto Hacche Lane. Proceed for about 200 metres before turning right into the main entrance.
You will then need to follow the track for about 700 metres before you reach the lake. The track to the lake is quite bumpy, so make sure you stay in a low gear and don't be in a hurry to reach the lake (however tempting the carp are!)
As you reach the car park, the Top Lake is immediately to the right.
Hacche Moor Fishery At A Glance
Hacche Moor Fishery is an exclusive carp fishery in South Molton, Devon. It consists of 3 lakes, all of which offer something different for carp anglers.
The Lakes At Hacche Moor Fishery
Top Lake
This is where the biggest carp in the fishery reside.
At 1.75 acres in size, this lake boasts 8 well-spaced pegs with a maximum of 4 anglers permitted to fish at any time.
There is an island that separates peg 1 and peg 2, with depths throughout the lake that vary from 3ft-9ft.
Bottom Lake
Bottom Lake is slightly larger than Top Lake and extends to 2.75 acres.
There are 9 pegs on Bottom Lake, with a maximum of 5 anglers permitted to fish at any time.
There is a larger stock of carp in this lake.
Jake's Lake
The newest addition to the Hacche Moor Fishery portfolio, Jake's Lake is the combination of 2 former stock ponds.
There is a lodge on Jake's Lake which is perfect for 2 anglers to fish with 3 rods each. A maximum of 3 anglers can fish Jake's Lake, though each angler will be limited to 2 rods in this instance.
Jake's Lake is approximately 1 acre in size with a decent carp-per-acre ratio.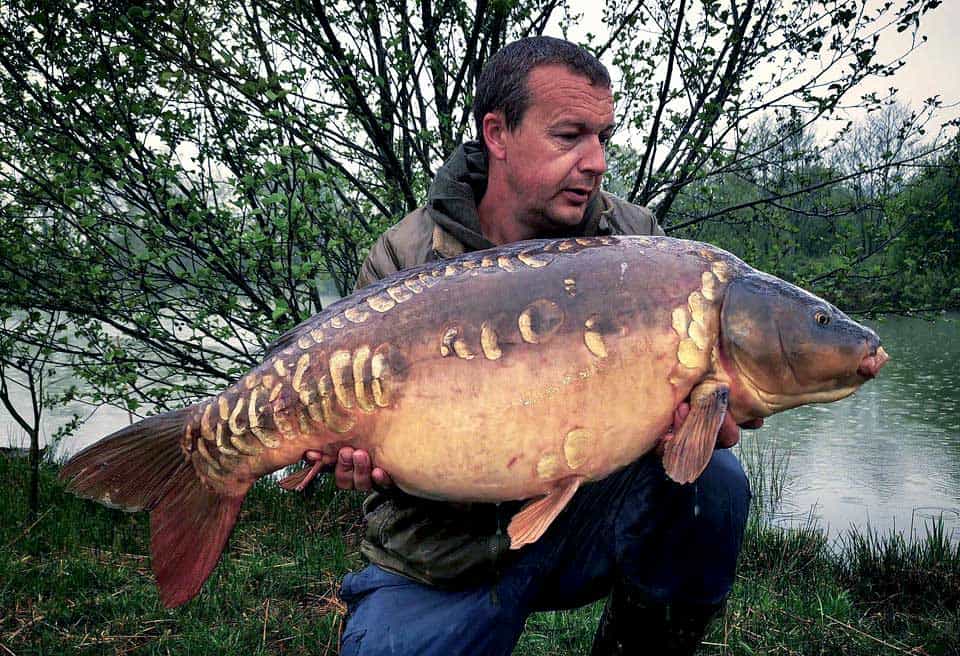 ---
Carp Lakes Near Me
Find the best lakes in your region and choose from over 500 day ticket carp lakes with our comprehensive UK guide
---
Stock Levels And Biggest Carp At Hacche Moor Fishery
Top Lake
The biggest carp reside in Top Lake, which has a total stock of 60 fish.
There are 40 carp that exceed 20lb in weight, with approximately 10 of those exceeding 30lb at the right time of year.
The lake record is a fish called "The Bullet" which has graced the bank weighing in excess of 40lb.
Bottom Lake
Although Top Lake boasts the biggest carp on the complex, Bottom Lake also offers an enviable stock.
With over 130 carp to target, the carp-per-acre ratio is greater on Bottom Lake.
There is a good head of 20lb+ fish, several that have crossed the 30lb barrier and a lake record that isn't far away from the magical 40lb mark.
Jake's Lake
With 70 carp swimming in its depths, Jake's Lake offers the best chance of a bite at Hacche Moor Fishery.
While the majority of fish are double-figures, there are approximately twenty carp that have taken the scales past the 20lb barrier. The fish in Jake's Lake are gaining weight fast and it won't be long before many more exceed 20lb in weight.
The record in Jake's Lake is currently 27lb, though it won't be long before there are several 30lb+ fish residing here.
Choosing A Peg At Hacche Moor Fishery
All of the pegs on each lake at Hacche Moor Fishery have features that hold carp, so it really is a case of finding the fish.
Top Lake
Pegs 1, 2, 7 and 8 offer access to the shallower water on Top Lake, so they tend to be hotspots during the warmer months, while pegs 3, 4, 5 and 6 occupy the deeper water and tend to be more popular during the colder months.
The island is in close proximity to pegs 1, 2, 7 and 8, leaving pegs 3, 4, 5 and 6 with open water and margins as their main features.
Bottom Lake
The shallow water on Bottom Lake is accessible from pegs 1, 2, 3, 4, 8 and 9, with pegs 5, 6 and 7 enjoying the deeper areas of the lake. With the island being relatively central, each peg has access to it. The marginal shelf around the island has been known to produce a few bites.
Jake's Lake
When booking Jake's Lake for 2 anglers, the use of the lodge is included, so it makes sense to use the lodge and fish from the designated pegs directly outside. If 3 anglers are fishing Jake's Lake, then you must bivvy up in the individual pegs on the lake.
Popular Pegs At Hacche Moor Fishery
Pegs 1, 2, 7 and 8 are popular choices on Top Lake, though pegs 4 and 5 can offer some decent winter form due to the deeper water levels.
On Bottom Lake, pegs 3, 4 and 5 often get occupied first, though any peg is capable of producing decent hits of fish, so ignore them at your peril.
The different areas of Jake's Lake are accessible from every peg, so you can feel confident of a bite wherever you are on this intimate water.
Successful Baits At Hacche Moor Fishery
Atlantic Heat from Baitworks is the boilie of choice at Hacche Moor Fishery, though any good quality boilie can produce the goods if it is in the right spot.
There is a lot of natural food in the lake, so the carp aren't reliant on boilies and have been known to switch off completely at times when the natural food is abundant.
The carp have been raised on the house pellet and are fed on them during the winter months, so using them as feed can bring good results.
---
Other Day Ticket Carp Lakes In Devon:
---
Staff
We made our booking with the owner, Andy, who also met us on our arrival at the fishery. Andy has spent most of his life in the fishing industry and his passion for everything fishing related is apparent as soon as you meet him.
Andy has worked tirelessly to build Hacche Moor Fishery into something special, so I would recommend listening to all of the tips and tricks that he is willing to share to maximise your chances of a bite during your visit.
Having visited many fisheries over the years, I can honestly say that Andy is up there among the most welcoming fishery owners that I have had the pleasure of meeting.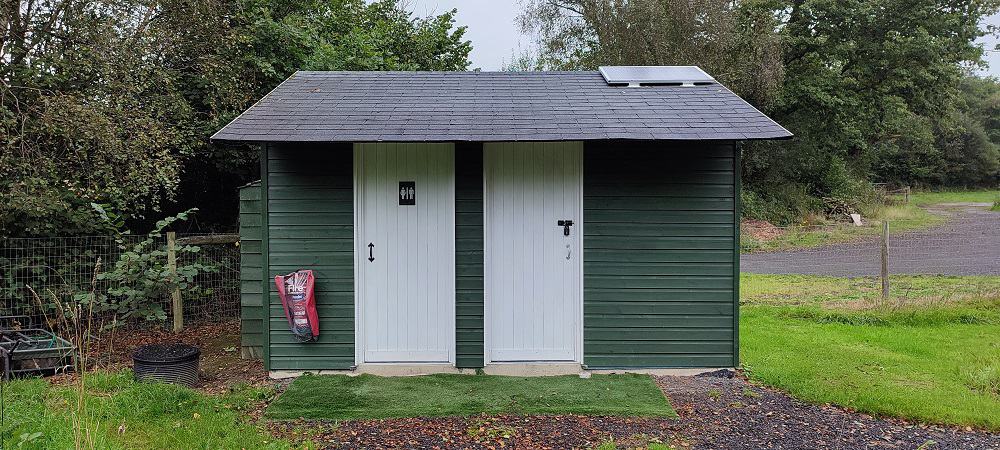 Facilities At Hacche Moor Fishery
This is where Hacche Moor Fishery REALLY stands out!
The toilets are absolutely spotless, while a clean, fresh towel on arrival for each booking is a particularly nice touch.
The shower room is as immaculate as the toilet and would be more at home in a posh hotel rather than at the side of a fishing lake in Devon!
With many fisheries around the country only offering a portaloo, this really is next-level luxury.
Car Park
I would estimate that the car park at Hacche Moor Fishery is large enough to accommodate 10 cars, so there is plenty of room for the anglers across all lakes, even if they all decide to arrive individually. With the car park being situated approximately 700 metres from the main entrance, it is extremely secure.
Price
At the time of writing, the prices for Hacche Moor Fishery are as follows:
Top Lake
Exclusive lake access for a maximum of 4 anglers is priced at £135 per 24 hour period.
Bottom Lake
Exclusive lake access for a maximum of 5 anglers is priced at £135 per 24 hour period.
Jake's Lake
Exclusive lake access for a maximum of 3 anglers is priced at £90 per 24 hour period.
Hacche Moor Fishery Conclusion
Hacche Moor Fishery is, without doubt, a fishery with a growing reputation.
We were considering several options for the Carp Smart end-of-summer social, but we are all extremely pleased that we chose Hacche Moor Fishery and have been unanimous in our praise for this complex.
We are already in discussion with Andy about some dates for our return trip, as we feel that we have a score to settle after registering a complete blank during this session (in our defence, the weather conditions were appalling!)
Carp Smart is not affiliated with Hacche Moor Fishery in any way, but we feel that it thoroughly deserves the first-ever 5-Star review that any fishery that we have visited has ever received.
Have you ever visited Hacche Moor Fishery? If you have, please let us know how you got on in the comments.