Unless you are relatively new to the world of carp fishing, it is highly likely that you will have heard of Drayton Reservoir. Originally known as Middlemoor Reservoir, it was dammed in the 1970s as a means of supplying water to the Grand Union Canal. After being drained and stocked with small carp in the 1990s, it is now arguably the most prolific runs water in the country.
Covering 25 acres of water and offering 123 well-spaced pegs, Drayton Reservoir has grown into a very popular day ticket venue. Big hits of fish are commonplace, and with the average size increasing all the time, many anglers have reported banking in excess of 1,000lb of carp during a 24 hour session.
Without further ado, let's take a look at what this sought-after Midlands fishery has to offer for carp anglers wishing to visit it.
Carp Fishing At Drayton Reservoir
Although extremely popular, Drayton Reservoir isn't everyone's cup of tea. There are literally thousands of fish to go after, so it is unlikely that you will find many serious specimen hunters on the banks. With that being said, if you are looking to test out some rigs, build your confidence after a run of blank sessions, or fancy an action-packed social with your mates, then there aren't many (if any) better fisheries in the country!
Drayton Reservoir
Quick Look
Drayton Reservoir
Stock Levels

Facilities

Cleanliness

Ticket Prices
Pros
Stocked with a LOT of fish!
Reasonably priced tickets
Cons
Only portaloos available
Can get VERY busy
Directions To Drayton Reservoir
Located towards the north of Daventry, Drayton Reservoir is well positioned to welcome anglers from the Midlands and beyond.
For anglers travelling from London and the south east, the M25, M1 takes you to within a few miles of the venue, while west country visitors can reach the lake by following the M5 and A46. Carp enthusiasts from the north west can have a leisurely drive on the M6, while those from the north east can use the southbound A46.
Drayton Reservoir: A Brief Introduction
If you are looking for a small, intimate venue, then this is NOT the lake for you! Extending to 25 acres in size and offering in excess of 120 pegs, this is a busy venue. Don't let those numbers put you off though, as each angler is still left with plenty of water to themselves, as well as an abundance of fish!
Despite its vast size and primary purpose being to supply water to the Grand Union Canal, Drayton Reservoir still has its fair share of trees, shrubs and other bank side vegetation, offering many picturesque pegs to anglers who enjoy fishing to features.
Rules At Drayton Reservoir
The rules at Drayton Reservoir are relatively lenient in comparison to some venues, with most of the imposed rules being common sense for most anglers. The Drayton Reservoir rules are as follows:
Barbless hooks only
Single hook rigs only (treble hooks are allowed for pike fishing)
No braided main line (except for spod/marker rods, or pike fishing)
No bait boats
Landing net required and of appropriate size (minimum 36″)
All landing nets must be fully dry before fishing
Unhooking mat or cradle

must

be used
No keepnets allowed
2 rod limit
No nut baits
While some people might frown at the 2 rod limit, you will understand it fully once you have fished here! Double-takes are quite common (and very stressful!) so if 3 rods were allowed, I imagine there would be absolute chaos.
Although not an enforced rule, I would recommend taking 2 landing nets with you when you fish Drayton Reservoir. As stated, double-takes do happen frequently, so it will definitely reduce your panic a little if you know that you have landing nets for multiple fish, should the need arise.
---
Carp Lakes Near Me
Find the best lakes in your region and choose from over 500 day ticket carp lakes with our comprehensive UK guide
---
Successful Baits And Methods At Drayton Reservoir
With thousands of carp in the lake, competition for food is high, meaning the carp here will literally eat anything! With that being said, certain baits and methods do tend to work better than others here.
The most popular method at Drayton Reservoir, especially during the day time, is to fish a sloppy spod mix over brightly coloured zig rigs. This tried-and-tested formula has produced hundreds of thousands of bites over the years, and its effectiveness shows no signs of slowing down.
While the zig rig approach does continue to work well during the night, the fish do tend to get their heads down a bit more while the upper layers are a bit cooler. During the hours of darkness, a tactic that also tends to produce consistent results is to fish over a big bed of bait with either a wafter, or a low-lying pop up on a ronnie rig. Of course, a trusty solid bag will also nick you a bite 99% of the time.
During the warmer months, a good quality boilie will almost guarantee you a bite, especially when fished over a bed of chops, corn and pellets. When the weather cools down, maggots are a favourite and will give you a good chance of landing a winter carp.
Best Pegs At Drayton Reservoir
There are 123 pegs at Drayton Reservoir, with pegs 1-36 reserved for anglers who have booked night fishing in advance. In addition, pegs 63-79 are also reserved for night anglers who didn't book, and are allocated on a first come, first served basis.
Pegs 1-36 are known as "The Boards" and one of the most popular spots is about 100yds from the bank, known as a common feeding area for the carp. The same spot can be reached from the dam wall, but it is much further (in excess of 150yds) which absolutely rules me out from ever being able to cast to it!
On the opposite side of the lake to "The Boards" is a group of pegs known as "The Straight". These pegs are also very popular and, incidentally, peg 79 is where the lake record was captured.
Just along from The Straight is one of the most sough-after areas of the lake, known as "The Point". Like with most lakes that have a peg called The Point, it gets occupied very quickly as it commands a decent amount of water and has some nice clear spots at about 60yds.
Booking A Peg At Drayton Reservoir
All bookings for Drayton Reservoir must be made via text message, and all night fishing must be booked in advance.
Want to book a peg at Drayton Reservoir?
Text Mark or Angie on the number below.
While all of the above information will stand you in good stead for a session here, you can absolutely catch from any peg on this lake. When it was stocked in the 1990s, approximately 50,000 carp were introduced. While I am almost certain there aren't that many carp in the lake, there are many thousands swimming in the depths, meaning that you will never be far from the action, regardless of where you decide to fish.
Biggest Carp At Drayton Reservoir
Drayton Reservoir has previously boasted fish to in excess of 40lb, though that particular specimen is no longer in the lake. Nowadays, there are several carp that have exceeded the 30lb barrier, with the lake record tipping the scales at 35lb when it was captured by venue regular Ollie Booker in 2017.
There is a good head of 20lb+ carp in the lake, with multiple fish caught every day that have passed the magical barrier. The average size is around the 15lb mark, so this must be one of the only lakes in the country where you can get fed up with catching mid/upper double-figure carp!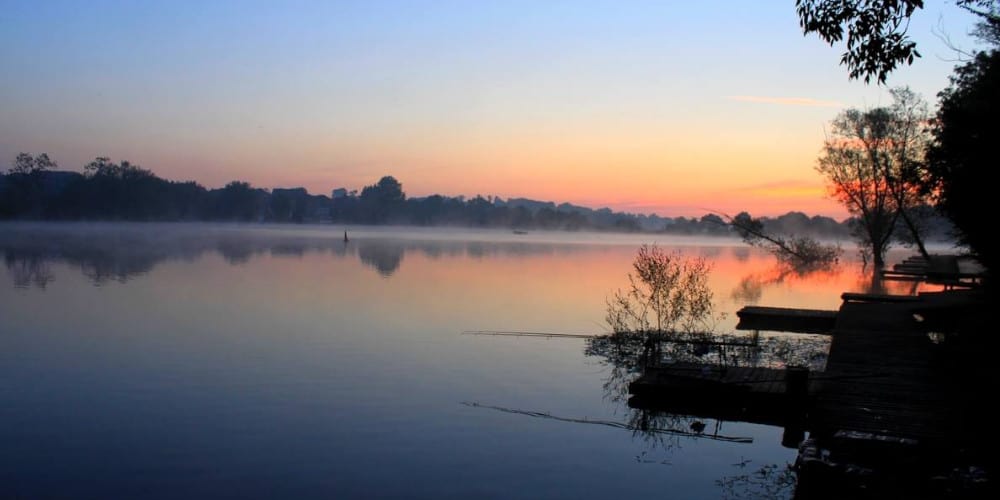 Facilities At Drayton Reservoir
Despite its popularity, the facilities at Drayton Reservoir are limited. There are no showers, but portaloos are available for use by anglers. While the inability to shower might put some visitors off, many will have caught their fair share of fish within 24 hours, so can return home satisfied and ready for a nice, warm shower.
Car Park At Drayton Reservoir
The car park at Drayton Reservoir is more than big enough and I have never known there to be any capacity problems. The gates are locked at night for additional security.
Parking is also available at pegs along the dam wall, making them popular with anglers who don't fancy barrowing their gear for miles around the perimeter of the lake.
Ticket Prices At Drayton Reservoir
Day tickets at Drayton Reservoir are sold on a first come, first served basis. There is a 2 rod limit, with tickets priced at £12. Night fishing must be booked in advance and is priced at £25 for 24 hours (midday-midday).
Drayton Reservoir Opening Times
The gates at Drayton Reservoir open at 7:00am Monday-Friday and 6:30am at weekends. Day ticket anglers must have exited the car park by 7pm.
Drayton Reservoir On Facebook
You can keep up to date with everything happening at Drayton Reservoir via their Facebook page. It is updated regularly with catch reports, angler interviews and general Drayton gossip!
Drayton Reservoir Conclusion
While Drayton Reservoir doesn't appeal to everyone, it definitely deserves the popularity that it is currently enjoying. It is well organised, well maintained and offers any visiting angler the chance of a red letter session – what more could you ask for?
Have you ever fished at Drayton Reservoir? If so, how many carp did you land during your session? Please let me know how you got on in the comments.