Horcott Lake was created more than 50 years ago after being used for gravel extraction. Extending to over 20 acres in size, this is now one of the Cotswold Water Park's premier day ticket venues and is full of weed, natural food and beautiful, scaley carp.
Under the current management since 2014, a stocking programme was undertaken and has been largely successful, with many of the recent additions showing fantastic growth rates and are now being caught at similar weights to some of the original fish.
This has been my first campaign as a season ticket holder, but it definitely won't be my last.
Horcott Lake
Quick Look
Horcott Lake is one of the finest day ticket fisheries in the Cotswold Water Park. This is a weedy lake with plenty of underwater features to find. With carp averaging around 20lb and a lake record in excess of 40lb, this venue is popular with both local anglers and those travelling from further afield.
Stock Level

Peg Spacing

Facilities

Cleanliness
Pros
Fantastic location
Beautiful fish
Directions To Horcott Lake
Horcott Lake is located in Fairford, approximately 10 miles from Cirencester.
Being situated within relatively close proximity to both the M4 and M5 motorways, it is easily accessible from the surrounding counties and is becoming increasingly popular with visiting anglers.
All fishing must be booked in advance, though you are able to choose your peg on arrival at the fishery.
Horcott Lake At A Glance
Horcott Lake is in excess of 20 acres in size and boasts a total of 40 pegs for members and day ticket anglers.
Like most of the gravel pits in the Cotswold Water Park, the water is gin clear and the relatively shallow water levels ensure that visibility is excellent.
During the summer months the lake can become extremely weedy, though every peg does have clear spots in the shape of gravel bars and silt gullies.
Stock Levels And Biggest Carp
The stock level of Horcott Lake is suggested to be in the region of 1,000, meaning there is close to 50 carp per acre of water. However, many of the anglers that I have spoken to state that a more realistic figure is somewhere between 600-800.
From my time at the lake, I would estimate the average size carp to be around 20lb, with multiple fish teetering close to the magical 30lb barrier. Several specimens are well established in excess of that figure, with the lake record currently standing at an impressive 38lb.
Many of the stocked fish are Leney's and Sutton's and are among some of the best-looking fish in the whole of the Cotswold Water Park.
Trending: Which of these carp will become the next British record?
Popular Pegs
With the depths being quite consistent across the lake, many of the pegs tend to produce all year round. With that being said, on every occasion that I have visited, the pegs known as "The Point" on the north bank and "The Beach" on the west bank always seem to be occupied, though this is probably because they offer excellent vantage points of the lake to keep an eye out for showing fish.
Opting for one of the corner pegs will ensure that you have a margin area to target. Alternatively, you will have to settle for finding one of the many gravel patches or silt areas that can be located in each peg.
The pegs are quite well-spaced, with each of them offering plenty of water for every angler, even when the lake is at full capacity.
Successful Baits At Horcott Lake
Horcott Lake is absolutely packed with natural food, so the carp that reside there don't rely on the bait that is introduced by anglers.
Tiger nuts often produce good results, along with washed out hook baits. Many anglers choose to introduce a lot of particles, and these can be ordered in advance of your session when booking your peg and are very reasonably priced.
As the lake can be quite weedy, a single hook bait presented on a chod rig can sometimes be all that is needed to trip up one of the scaley residents.
Popular: Are these really the best baits for carp?
Facilities
The facilities (or lack of) are one of the only disappointing things about Horcott Lake. There are no showers, and the toilets are so basic that many anglers (myself included) choose to carry their own portable toilets.
With that being said, there are plans in place to construct new facilities, with rumours around the lake suggesting that it could happen sooner, rather than later.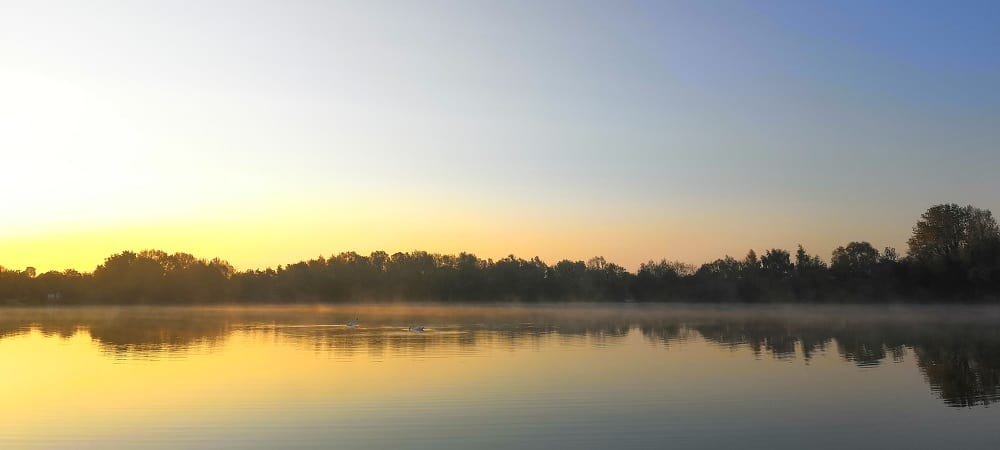 Car Park
The main gate is locked at all times, with members and day ticket anglers being provided with the code for the padlock, which is changed on a regular basis.
The car park is big enough to accommodate multiple cars, though it can get crowded when the lake gets close to its maximum capacity.
Ticket Price
Day tickets can be booked and are priced at £10 (2 rods) or £15 (3 rods). For anglers wishing to fish for longer, 24 hour tickets are available for £20 (2 rods) or £25 (3 rods).
A limited number of season tickets are available each year and are priced at £130 (2 rods) or £150 (3 rods), with these tickets giving anglers unlimited access to Horcott Lake for 12 months (which in my opinion, is an absolute bargain!)
Conclusion
Horcott Lake is increasing in popularity each year, largely due to the fantastic way that the lake is managed and how welcoming the bailiffs are.
There are some absolutely stunning Cotswold carp to target and the prices are very reasonable for fishing and the bait deals that are on offer.
Have you ever fished at Horcott Lake? If you have, please let me know how you got on in the comments.