The British record carp is a topic that always causes some controversy. Official rules state that a carp must be truly British in order to be considered as a contender, while many anglers are quick to point out that carp are not indigenous to the UK.
Chris Yates really set the carp world alight in 1980 when he banked a 51lb 8oz mirror called The Bishop from specimen mecca Redmire Pool. That record would stand for 15 years until it was broken twice in quick succession in 1995.
Mary, Wraysbury's much-loved carp, then broke the record twice in the late 1990s, before the infamous Two Tone was caught at British record weights a staggering 8 times between 2001 and 2008.
The final British record capture of Two Tone by Oz Holness at 67lb 8oz stood for almost 8 years, until Dean Fletcher banked The Parrot from Berkshire's Wasing Estate at 68lb 1oz in January 2016.
With all of the previous behemoths now swimming in the carp lakes in the sky, we take a look at the top 10 contenders that could become the next British record.
3 Scale (Willows Lake)
3 Scale is a resident of Yorkshire's Willows Lake, located around 12 miles from Leeds.
The lake is part of the Approach Fisheries complex and is owned and operated by Sam Anderson, who was head of Eric's Angling until they were bought out by tackle supply giants, Angling Direct.
Willows Lake is a former gravel pit, covering 25 acres of water and is widely recognised as the finest big fish venue in the north. It has an enviable stock of fish, including:
Fifty different carp weighing over 30lb
Twenty carp that are in excess of 40lb
Three different 50lb carp
While these fish alone are enough to make even the most reserved carp angler visibly excited, they are all just part of an impressive support act for the main event, 3 Scale.
Like many of the bigger residents in the lake, 3 Scale was stocked in 2005 at around 5lb and has grown on tremendously, finally crossing the magical 60lb barrier when captured by Paul Owens in June 2019 at 61lb 2oz.
3 Scale continues to increase in weight, and was caught in June 2020 by Peter James at a whopping 62lb 8oz.
Captain Jack (Holme Fen Fishery)
Captain Jack resides at Holme Fen Fishery, which is located in Huntingdon, Cambridgeshire.
The Meadows is the main lake of the complex, extending to around 26 acres in size and is moderately stocked with around 200 carp.
One of its most famous residents is Captain Jack, who has already been banked at a weight that exceeds the British record – though it was never ratified by the BRFC.
The reason for the rejection was that a lot of the fish currently in Holme Fen were imported from Israel in 2013, and stocked at high weights. Captain Jack was already 41lb when introduced to Holme Fen, so the BRFC decided that the claim couldn't be considered.
Green 124 (Grenville Lake)
Grenville Lake is a premium syndicate water that is located in Cambridgeshire.
The lake covers 72 acres of water and has an impressive stock of carp, with more than 100 of the fish that were introduced in 2003 now north of the 40lb barrier.
In addition, the lake also has 7 different 50lb+ specimens, all of which are in the shadows of Green 124, the oddly-named lake record that was banked by Mike Forster at 65lb 12oz in 2020.
The names of the fish stem from when they were stocked, with each fish being assigned a colour code and a number. As their names have remained unchanged, we may well see a fish called Green XXX, Red XXX or Blue XXX as the British records of the future.
Trending: What particles do you use in your spod mix? Do you know how to best prepare them? Let's take a look at carp fishing's most popular particles
Lee Jackson Common (Strawberry Fields)
Strawberry Fields in Royal Tunbridge Wells, Kent is the home of the Lee Jackson Common.
With each of the lakes on the Strawberry Fields complex only around 2.5 acres in size, it makes the size of some of the residents even more remarkable.
There are around 10 different 40lb+ carp, including a fully-scaled ghostie. There are at least 2 known specimens (1 common and 1 mirror) that are in excess of 50lb and the cream of the crop is the Lee Jackson Common, a fish that was first captured back in 1997 at 5lb.
It has piled on the weight since then and set the Strawberry Fields lake record at 63lb 4oz when Leanne Jaynes tempted it in 2014.
Marshall's (Holme Fen Fishery)
Cambridgeshire carp mecca Holme Fen Fishery makes the list again with a fish that has surpassed the weight of one of their other favourite mirrors, Captain Jack.
The previously unknown fish was named Marshall's after the angler who banked it in May 2018 at 64lb 2oz, Lee Marshall.
It was captured again in October 2019 by Martyn Lowe at an eye-popping 71lb, though a claim was never made to the BRFC as it would almost certainly have been rejected under the same criteria that also saw the request for Captain Jack thrown out.
Scruffy Bob (Wellington Country Park)
Located on the Berkshire/Hampshire border, Wellington Country Park is no stranger to big fish, with multiple 50lb+ carp gracing its banks over the years.
It wasn't until early 2019 that the 35 acre lake produced its first 60lb+ fish, when all-round specimen hunter Neill Stephen landed Scruffy Bob at 60lb 8oz. The giant has been on the bank a few times since and was captured by Dave Finn at 61lb 12oz in the Autumn of 2019.
Wellington Country Park has lost some of its bigger residents in recent times, but who knows if Scruffy Bob will push on and become the next British record.
Single Scale (Rockford Lake)
Rockford Lake is a former Cemex syndicate that is now a club water operated by Ringwood & District Anglers Association.
This 55 acre lake has always held big fish and was previously one of the most sought-after syndicates in the UK.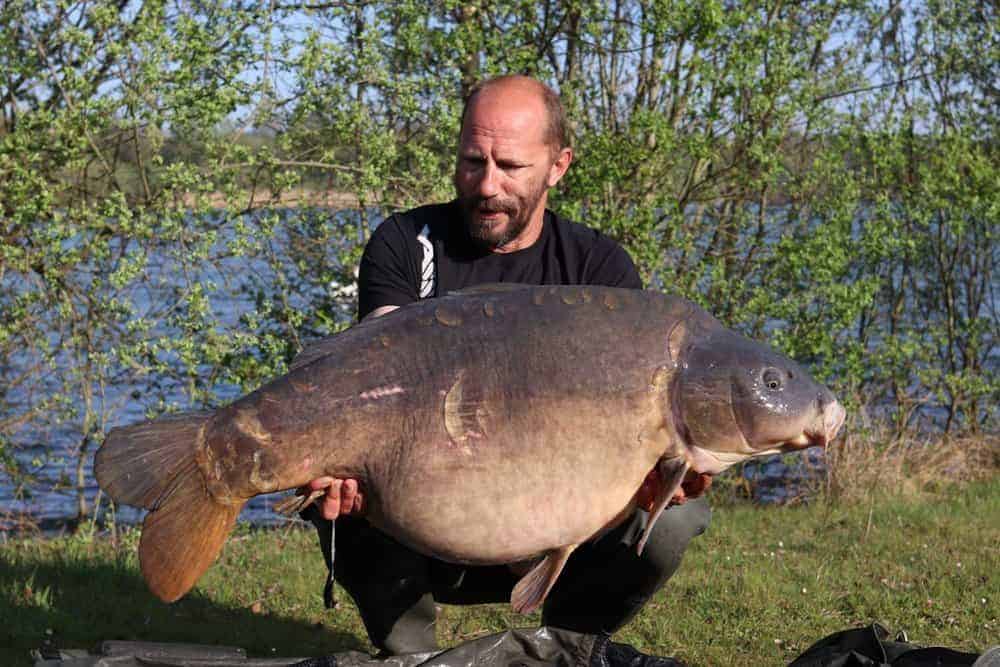 The prized fish of this venue is a mirror called Single Scale, whose weight has stayed consistently close to 60lb for the last few years. The magical barrier was finally crossed in 2019 when Shane Gould tripped it up at a top weight of 60lb 10oz.
Having avoided capture for 18 months prior to that, could Single Scale edge even closer to the British record?
Popular: Do you ever experience problems with crayfish on the lakes that you fish? Check out the best ways how to combat these nuisances
Tarka (RH Fisheries)
RH Fisheries is one of the premier carp fishing complexes in the country, offering a mixture of day ticket and syndicate opportunities.
The jewel in the crown is The Avenue, a 10 acre lake that is situated in the grounds of the owners home. It certainly has some history, having been dug more than 300 years ago.
There are approximately 150 carp in The Avenue, with only a handful weighing less than 30lb. The stock list makes incredible reading:
Seventy carp over 30lb
Fifty that weigh in excess of 40lb
Fourteen different 50lb specimens
It is also home to Tarka, the biggest common carp in the UK. Having been introduced to the lake at 38lb in 2010, it first crossed the 60lb barrier in 2017, before being captured at a top weight of 65lb 2oz in 2018.
According to the owner, Rob Hales, Tarka was born in around 2003. With time on its side and a rich environment to live in, is there anything stopping this big-framed behemoth exceeding the British record weight? And if it does, will the claim be ratified by the BRFC?
The 4×4 (Church Lake)
Church Lake is owned and operated by carp fishing legend, Kevin Nash.
The lake was only fished by Kevin and his close friends until 2016, at which point the decision was made to turn it into an open access water and give others the chance to fish for some of the magnificent carp that reside there.
Between Church Lake and the neighbouring Copse Lake, there are multiple fish that have crossed the 40lb barrier and more than ten different specimens have exceeded 50lb in weight.
The piece de resistance of the complex is a big mirror called The 4×4, which has been banked at a top weight of 61lb 6oz and could well make record size.
The Burghfield Common (Burghfield Main Lake)
And last but by no means least, we take a look at Berkshire's famous syndicate at Burghfield Main Lake.
This breathtaking water was formerly controlled by Cemex, until Advanced Angling purchased it. The 90 acre lake has a stock of less than 200 carp, which includes a number of 30lb+ Leney originals and several specimens that exceed 40lb.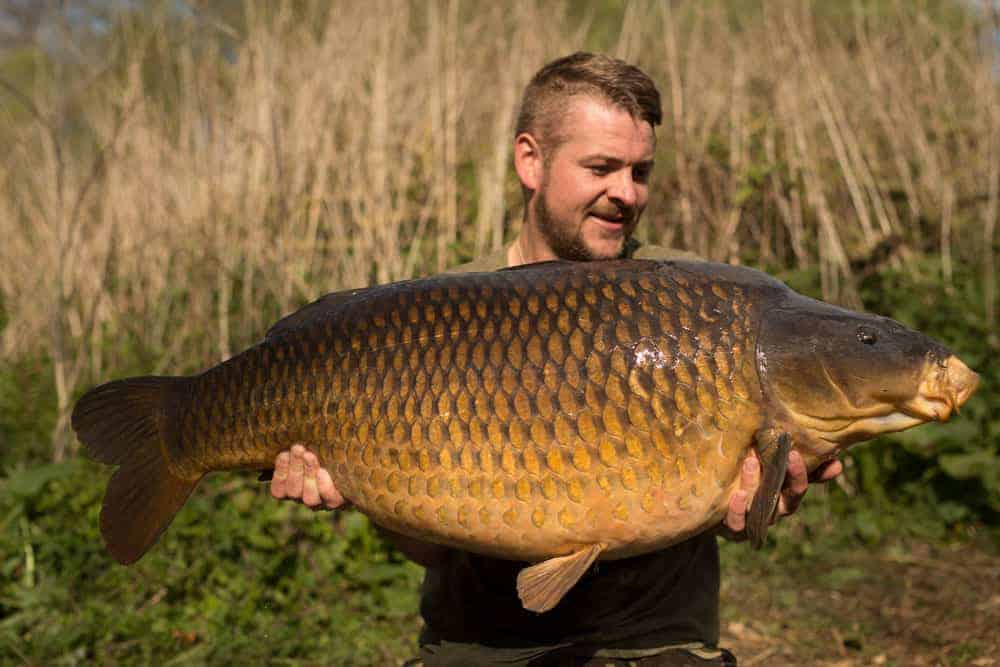 Oz Holness, Dave Lane and Terry Hearn are 3 of just 12 anglers who have landed the main prize on offer at the lake – The Burghfield Common. Previously voted Britain's favourite carp, the big common's top weight was 62lb 8oz when caught by Scott Lloyd in 2017.
Conclusion
The popularity of carp fishing is increasing and the focus of bait companies ensures that our prized quarry receives the necessary nutrients to reach big weights, while remaining healthy and able to live to a ripe old age.
I believe that controversy will continue to surround some of the rejected claims for British record carp, though it won't be too long until the offspring of the quick-growing imported fish start to approach record weights.
Which carp would you like to see as the next British record? My personal favourite is the Burghfield Common, though I don't think it will ever reach the record-breaking weight that so many anglers wish for.