Whether shelf life or frozen, boilies are undoubtedly the most popular bait with carp anglers around the world. Having been around in their original form since the 1970s, they have stood the test of time and are constantly evolving.
During the last decade, many bait manufacturers have looked much more closely at the optimum nutritional content for carp and have developed their baits with this in mind.
For a long time, frozen boilies were always deemed to be the freshest and the best, but shelf life boilies have made massive strides in recent times. With not much separating the two nowadays, which type of bait you choose is now decided more by personal preference than any other factor.
The following is a list (in alphabetical order) of what I believe to be some of the finest shelf life boilies on the market. Let's take a closer look at what makes them so successful.
Baitworks Atlantic Heat Boilies
Baitworks Atlantic Heat has been responsible for multiple personal best catches and many lake records and, as with all Baitworks products, is crafted using the finest ingredients.
This shelf life boilie is fishmeal based, which is high in protein and has a low oil content. It is made up of marine extracts, robin red, salts and spices, with vitamin and mineral supplements.
As well as the shelf life range, Atlantic Heat is also available as a freezer bait. If any further attraction is required, there is an array of glugs, boosters and oils to take the flavours to the next level.
Baitworks Atlantic Heat Shelf Life Boilies:
CC Moore Pacific Tuna Boilies
I regularly fish the Todber Manor complex in Dorset and CC Moore Pacific Tuna has accounted for many fish from their lakes in recent years.
Haith's Robin Red is one of the main ingredients of this highly soluble shelf life boilie. Tuna, shellfish and vegetable extracts are also present and are key ingredients in making this a bait that can be easily digested by carp, even in colder weather conditions.
A freezer bait is available in addition to the shelf life range and both options are complemented by matching bait sprays and liquid additives.
CC Moore Pacific Tuna Shelf Life Boilies:
DNA Baits SLK Boilies
Very highly praised by anglers who use them, the SLK boilies from DNA are without doubt one of the finest baits on the market.
With a name like SLK, you might think that DNA Baits had entered into a partnership with Mercedes-Benz, but the abbreviation actually comes from the flavour profile of the boilie – Shrimp, Liver and Krill.
This is a high protein shelf life boilie, with two different kinds of fishmeal and a krill meal included, along with a vegetable protein.
All of the flavours in this bait are completely natural and its high attraction levels can be attributed to the inclusion of yeast extract, hydrolysed liver powder and fenugreek.
As well as the shelf life boilies, SLK is available as a freezer bait and the range is completed by the inclusion of a bait soak, liquid food and spod syrup.
DNA Baits SLK Shelf Life Boilies:
Popular: Looking for even more information about baits? Our ultimate boilie guide should answer any questions that you may have
DT Baits Cold Water Green Beast Boilies
When you're looking for a reliable winter bait, they don't come much better than the Cold Water Green Beast boilies from DT Baits.
This shelf life boilie contains high levels of milk-based proteins which, along with the other ingredients, encourages faster digestion. This can result in the carp feeding for longer spells, even during the coldest times of the year.
Even though it is billed as a bait to keep blanks to a minimum during the winter, it produces results during the warmer months too, so ignore it at your peril.
DT Baits Cold Water Green Beast Shelf Life Boilies:
Essential Baits B5 Boilies
A legend in its own lifetime, the shellfish B5 boilies from Essential Baits have been responsible for many big fish captures in the UK and across the continent.
Originally available as a freezer bait only, it has been a revelation since the release of the shelf life version. It is worth noting that this bait is quite hard, something that Essential Baits attribute to the fact that they use only small quantities of preservatives and dry their baits for much longer.
Boasting a unique blend of high-quality fish and milk proteins, this is one of the finest fishmeal boilies to ever hit the shelves.
Essential Baits B5 Shelf Life Boilies:
Hinders Bait Beta'Nana Boilies
Hinders Beta'Nana boilies are absolutely deadly! The "beta" part of the name comes from Hinders' own Betalin and the "nana" part comes from…..you guessed it, banana!
Betalin is a registered trademark of Hinders' combination of Betaine and Talin, both of which possess extremely high levels of attraction and are almost irresistible to carp.
This is an extremely soft shelf life boilie which is as effective in the summer as it is in the winter. It is exceptionally water-soluble, which allows the potent attractors to release easily into the water column.
Hinders Bait Beta'Nana Shelf Life Boilies:
Trending: Does your baiting strategy include the use of particles? Why not take a look at the best particles for catching carp
Nash Scopex Squid Boilies
Nash Scopex Squid is, without doubt, one of the most famous boilies to ever be produced.
While it disappeared for a while, the pressure from anglers all over was too great to ignore and it reappeared not long after.
This is a high-quality shelf life boilie, blending low-temperature fishmeals with proteins, oils and of course, squid extract.
As well as the shelf life boiles, the Nash Scopex Squid range also boasts frozen boilies, boilie flake, pop-ups, wafters, hard ons and fluoro hook baits.
This is a timeless classic that has been responsible for capturing some of the UK's most famous carp over the last 25+ years (including the famous Two Tone no less than 6 times) and is still the go-to bait for many top anglers today.
Nash Scopex Squid Shelf Life Boilies:
Richworth Tutti Frutti Boilies
Richworth was the OG when it came to boilie production and, although they slipped away slightly as they went through a transition period, they are now firmly back on the scene.
Richworth Tutti Frutti was one of my favourite boilie flavours in the 1990s and accounted for the capture of my first ever carp, a 5lb common from Tockenham Reservoir in Wiltshire.
Fast forward to the present day and Tutti Frutti is back on the menu as part of Richworth's "original" range.
It was always recognised as the ultimate winter bait (possibly due to the bright colour), but I used to catch on it all year round back then and the same is still true today.
Tutti Frutti is also available as a freezer bait and Richworth produce matching dip, double-strength flavour and pellets.
Richworth Tutti Frutti Shelf Life Boilies:
Sticky Baits The Krill Boilies
The Krill from Sticky Baits became an instant favourite upon its release and has continued doing the damage ever since.
This is a relatively soft shelf life boilie, rich in low-temperature fishmeals, various proteins and birdfoods. The super soluble appetite stimulants enter the water column with ease, leaving a trail of attraction for any inquisitive carp.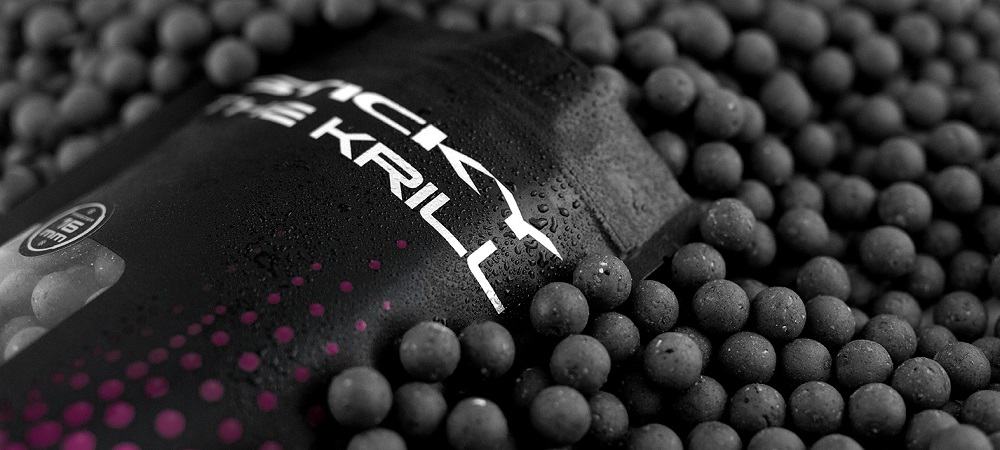 Also available as a freezer bait, The Krill range is packed full of additional products including powder, active mix, paste, wafters and different coloured pop-ups.
Sticky Baits The Krill Shelf Life Boilies:
Conclusion
So those are some of the best shelf life boilies that I have used over the last 30 years of carp fishing and each and every one of them has been productive for me.
By nature, carp are greedy creatures and I am a firm believer that if you can find the fish, you can present almost any bait and catch on it. With that being said, I believe that we, as carp anglers, have a duty to do our best for our quarry.
A lot can be said about the ingredients of the boilies that we use and how they can affect the health and well-being of the carp that we all fish for.
Do you believe that some companies use better ingredients than others? Do you prefer to use a more expensive bait rather than a cheaper option? Let me know in the comments, I would love to hear your opinions.